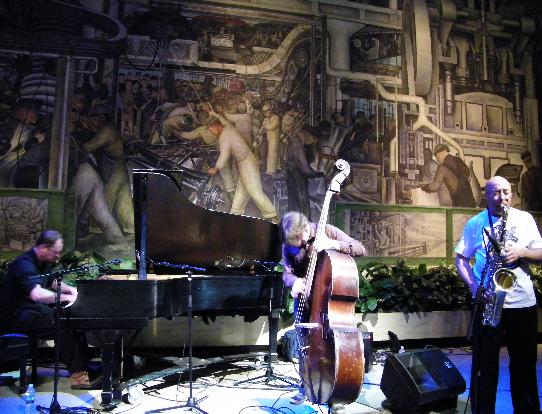 The Soar Trio has a sound that encompasses a world of energetic music-making that is part erudite composition, part virtuosic improvisation and part populist affability. The group combines musicians who have an affinity for taking innovative music directly to the people. Savage melodicism, soulful economy and ecstatic Free Jazz all inform the trio's direction.

Skeeter C.R. Shelton is one of the most under-recognized saxophonists in free jazz/creative music. His father, drummer Ajaramu Shelton, was a charter member of the AACM who played with Roscoe Mitchell, Muhal Abrahms, Kalaparusha, Fred Anderson, Sonny Stitt and Gene Ammons. Skeeter grew-up around these influences and absorbed a whole lot of tenor playing. His status as a leading figure in Detroit's creative music community is undisputed and his obscure national status is due to reticence, not talent. But he hasn't completely escaped notice by notable peers- Skeeter has worked with musicians like James Blood Ulmer, Fred Anderson, Faruq Z. Bey, Hakim Jami, Dennis Gonzales and The North Woods Improvisers.
Based in Detroit, multi-instrumentalist Joel Peterson has performed a wide array of music as a member of groups like Immigrant Suns, The Scavenger Quartet (with Frank Pahl), Odu Afrobeat Orchestra (with Adeboye Adegbenro, Lac LaBelle, Xenharmonic Gamelan, ECFA and in trios and quartets with Faruq Z Bey, Kenneth Green and Michael Carey. As an improviser, he has performed with people like Tatsuya Nakatani, Steve Cohn, Amy Denio, Luk Houtkamp, Eugene Chadbourne, Rhys Chatham, Jason Stein, Carl Smith, Damo Suzuki and many others. Besides the double-bass, his primary gigging instrument, Joel also performs on clarinet, oud, qyteli, guitar and more. From 2005-2008 he ran Bohemian National Home, Detroit's primary venue for creative arts. He was recently awarded a fellow of the Kresge Foundation.
Thollem McDonas tours perpetually as a solo pianist, vocalist and collaborator regularly covering much of North America and Europe playing free music and free free music. In the past 6 years, he has added 23 albums to his discography on 10 different vanguard record labels in 4 different countries. His musical experiences are extremely diverse and his ever-expanding variety of approaches to making music result in dramatically new and different outcomes. He plays in punk clubs, museums, concert halls and riots. He works regularly with film makers, dancers, poets and painters as well as a wide array of divergent musicians. He has won numerous awards and is the founding director of Estamos Ensemble, a Mexican-American cross border ensemble for musical exchange.

Artist Website