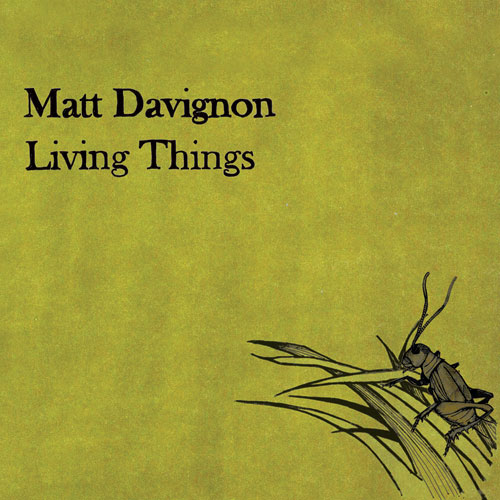 Special Value


Buy Matt Davignon's Living Things and get Soft Wet Fish at an additional $4.00 off

Buy Together Today: $22
Matt Davignon is an experimental musician based in Oakland, California, who has been working almost exclusively with the processed sounds of drum machine since 2004. Before that, he has worked with unusual sound sources such as field recordings, turntable, prepared instruments and household objects.
The fuzzy drones, moody quivers and chirps Matt creates are far removed from the sounds one would expect to hear from a drum machine. However, listeners of Matt's last two albums, "Bwoo" and "SoftWetFish" are familiar with the unique language he has developed for his instrument. Inspired by psychedelic music and natural sound recordings, the music in his new offering, "Living Things", focuses on the theme of organic life which he conveys with a sense of mystery and wonderment.

Matt Davignon - drum machine


Buy at Bandcamp
Buy at iTunes Music Store
Buy at Amazon MP3

"Listeners will find themselves rapt with attention, trying to discern in all that murky, bubbling saturation where exactly the drum machine dwells. Like a patient and secretive swamp creature, it doesn't want to be found, and that is precisely the beauty of this release."
- Dutton Hauhart, Connexion Bizzare

"Patience is necessary, of course, but it will be rewarded many times over. Let the pieces wash over you, ponder the titles if you wish and then see where your mind has wandered. You'll be most pleased with the result."
- J. Worley, Aiding & Abetting

"Matt Davignon makes strange, elastic sounds out of a drum machine. It's an interesting transformation — instead of dry clicks and snaps, you get long, gloopy tunes, a more liquidy and organic sound than I'd associate with the phrase "drum machine." The results are interesting little soundscapes, as shown on his earlier albums Bwoo and SoftWetFish. But on the new Living Things, the idea takes a new turn."
-Wedge, Memory Select

"Living Things is like looking at tiny creatures in nature under a microscope - you hear chirps, whirrs, gurgles crackles and many other sounds. Nifty!"
- SAL9000 KFJC 89.7 FM

"Davignon delivers once again a great musical CD...a disc of high quality."
Frans De Waard, Vital Weekly