2005 ARCHIVE NEWS
December 16, 2005
MATT DAVIGNON
on tour together with CHAOS BUTTERFLY
featuring Dina Emerson/Jonathan Segel
(WEST COAST TOUR)
OPEN Books Music Magazine Art
144 Linden Ave
Long Beach, CA
8pm - donation requested
562-499-open
December 15, 2005
MATT DAVIGNON
on tour together with CHAOS BUTTERFLY
featuring Dina Emerson/Jonathan Segel
(WEST COAST TOUR)
Other Ideas at Voz Alta
1544 Broaddway
San Deigo, CA
8:00 pm - $5 at the door
December 12
DIFFERENT STROKES
101 California Street, Lobby
San Francisco
11:30 - 1:30 pm
Presented by the Market Street Association
December 7
MATT DAVIGNON
on tour together with CHAOS BUTTERFLY
featuring Dina Emerson/Jonathan Segel
(WEST COAST TOUR)
Gallery 412
1412 18th Ave.
Seattle, WA
8:00 pm $5-15 sliding
(206) 322-1533
December 5
MATT DAVIGNON
on tour together with CHAOS BUTTERFLY
featuring Dina Emerson/Jonathan Segel
(WEST COAST TOUR)
Sam Bonds Garage
407 blair blvd
Eugene, OR
8:00 pm $6-10 sliding scale
(541) 343-2635
December 2
MATT DAVIGNON
on tour together with CHAOS BUTTERFLY
featuring Dina Emerson/Jonathan Segel
(WEST COAST TOUR)
Dunes
1905 NE Martin Luther King
Portland, OR
9:00 pm $3-4 sliding scale
November 30
JON BRUMIT
Live at the Touchtone Show
Pacific Film Archive
2575 Bancroft Way
Berkeley, CA
7:30 pm
$8
November 19
RENT ROMUS
21 Grand Gallery
426 25th St.
Oakland, CA
8:00 pm - $6-10 sliding at the door
performs with the SWITCH (electro-acoustic)
November 18
MICRO-RITMIA
featuring Ernesto Martinez, Eduardo González
& guest Thollem Mcdonas (WEST COAST TOUR)
the Enteractive Language festival
2 Gyrz Performative Arts
Holocene
1001 SE Morrison St
Portland, OR
11:00 pm (503) 239-7639
November 17
MICRO-RITMIA
featuring Ernesto Martinez, Eduardo González
& guest Thollem Mcdonas (WEST COAST TOUR)
AVA Gallery
160 10th St.
Astoria, OR
8:00 pm
(503) 325-4589
November 16
MICRO-RITMIA
featuring Ernesto Martinez, Eduardo González
& guest Thollem Mcdonas (WEST COAST TOUR)
Gallery 412
1412 18th Ave.
Seattle, WA
8:00 pm $5-15 sliding
(206) 322-1533
November 13
MICRO-RITMIA
featuring Ernesto Martinez, Eduardo González
& guest Thollem Mcdonas (WEST COAST TOUR)
Old Ironsides
1901 10th @ S St.
Sacramento, CA
8:00 pm
$3
November 12
MICRO-RITMIA
featuring Ernesto Martinez, Eduardo González
& guest Thollem Mcdonas (WEST COAST TOUR)
a Mortsocial Production
Randall Museum
100 Museum Way
San Francisco, CA
8:00 pm
$10
also with M.E.Miller, Paul Dean Price, Stefanie Drooten, Gretta Kohn, New York novelist , and screen
writer Brian Keizer, hosted by James Talbert,
with guest D.J. Ben Molale
November 11
DIFFERENT STROKES
Rustico's Restaurant
39 Caledonia @ Johnson
Sausalito, CA
7:00 pm
November 9
MICRO-RITMIA
featuring Ernesto Martinez, Eduardo González
& guest Thollem Mcdonas (WEST COAST TOUR)
OPEN Books Music Magazine Art
144 Linden Ave
Long Beach, CA
8pm - donation requested
562-499-open
November 8
MICRO-RITMIA
featuring Ernesto Martinez, Eduardo González
& guest Thollem Mcdonas (WEST COAST TOUR)
Dagny's Coffee Company
1600 20th St. @ Eye St.
Bakersfield, CA
6:00 pm - random donation requested
(661) 378-0054
November 6
RENT ROMUS' Lords of Outland
SIMM Music Series
Music Union Hall
116 9th St.
San Francisco, CA
7:30 pm - $10, $8, $5 at the door
with Black Hat Ensemble

November 5
MICRO-RITMIA
featuring Ernesto Martinez, Eduardo González
& guest Thollem Mcdonas (WEST COAST TOUR)
Other Ideas at Voz Alta
1544 Broaddway
San Deigo, CA
8:00 pm - $5 at the door

November 3
MICRO-RITMIA
featuring Ernesto Martinez, Eduardo González
& guest Thollem Mcdonas (WEST COAST TOUR)
Cafe Metrolpol
923 East 3rd St.
Downtown Artist District
Los Angeles, CA
(213) 613-1537
2-sets 8:00 pm - $5 at the door

November 3
RENT ROMUS, BOB MARSH, MATT DAVIGNON
Luggage Store Gallery
1007 6th St.
San Francisco, CA
8:00 pm - $6-10 sliding at the door
also with:
Phillip Greenlief, Joel Pickard
Jonathan Segel, Damon Smith
November 1
DIFFERENT STROKES
The Canvas Gallery
1200 Ninth Avenue
San Francisco, CA
10:00 pm

October 30
DIFFERENT STROKES
Caffe Trieste
1000 Bridgeway
Sausalito, CA
7:00 pm

October 14
Different Strokes
Rustico's Restaurant
29 Caledonia (at Johnson)
Sausalito, CA
7:30 pm
(415) 332-4500

October 12
Matt Davignon
Hotel Utah
500 4th St. at Bryant
San Francisco, CA
9:00 PM $5 (Ages 21 and over)
also...English, & Tom Carter
October 7
Different Strokes
California Modern Gallery
1035 Market Street
San Francisco, CA
6:00 pm
(415) 716-8661

October 5
Beth Snellings
Rustico's Restaurant
29 Caledonia (at Johnson)
Sausalito, CA
7:30 pm
(415) 332-4500
Beth performs as solo cellist
October 2
Thollem Mcdonas (MID-WEST/EAST COAST TOUR)
Dunaway Books
3111 South Grand
St. Louis, MO
8pm
also with Eric Hall plus more TBA

October 1
Thollem Mcdonas (MID-WEST/EAST COAST TOUR)
Pygmalion Music Festival
Iron Post
120 Race Street
Urbana, IL
$6-10 sliding
also with Ear Doctor, and Nu Orbit

September 23
Thollem Mcdonas (MID-WEST/EAST COAST TOUR)
Motherfool's Café
1101 Williamson St.
Madison, WI
8:00 pm

September 16
Thollem Mcdonas (MID-WEST/EAST COAST TOUR)
Zeitgeist Gallery
1353 Cambridge St. Inman Sq.
Cambridge, MA
7:00 pm $10

September 17
Different Strokes
Pleasant Hill Co-Housing Center
2200 Lisa Lane
Pleasant Hill, CA
8:00 pm $10

September 18
Thollem Mcdonas (MID-WEST/EAST COAST TOUR)
A\V Space
8 Public Market
Rochester, NY
8:00 pm $5 door
585-423-0320

September 15
C. J. REAVEN BOROSQUE
Luggage Store Gallery New Music Series
Luggage Store Gallery
1007 Market St.
San Francisco, Ca
8:00 pm $6-10 sliding
also with Phroq (from Switzerland), Stimbox
Xome, Tralphaz
September 13
Thollem Mcdonas (MID-WEST/EAST COAST TOUR)
Wombat Studios
448 Dean Street at Flatbush
(2/3 train to Bergen or Q to Pacific St
or you can walk from Atlantic)
8:00 pm $10
with rev.99 and Delancey
September 11
Thollem Mcdonas (MID-WEST/EAST COAST TOUR)
C.o.M.A. @ ABC No-Rio,
156 Rivington St.
New York, NY

September 7
Different Strokes
Citizen Cupcake
2 Stockton St.
San Francisco, CA
6:30 pm

September 4
JIM RYAN/STEPHEN FLINN DUO
Old Iron Sides
10th and S Sts.
Sacramento, Ca
9:00 pm
September 4
After the End of the World Coretet-16 year anniversary party
FEATURING BILL NOERTKER
SIMM Series/Outsound Research
Musicians Union Hall
116 9th St @ Mission
San Francisco, Ca
7:30 pm $6-10 sliding
August 27
THOLLEM MCDONAS
SIMM Series/Outsound Research
Musicians Union Hall
116 9th St @ Mission
San Francisco, Ca
7:30 pm $6-10 sliding
also with Jim Peterson Quartet

August 26
JIM RYAN'S FORWARD ENERGY
The 1510 Performance Space
1510 8th Street @ Chester
Oakland, Ca
8:00 pm $8
with Special Guest, Eddie Gale trumpet

August 17
DIFFERENT STROKES
YEHUDIT & BETH SNELLINGS
The Market Street Association's
People in Plazas Series
Crocker Galleria
50 Post Street
(Post & Sutter at Kearny)
12 noon - 1pm no cover
Information: (415)362-2500
August 12
DIFFERENT STROKES
YEHUDIT & BETH SNELLINGS
Dolores Park Cafe
501 Dolores Street @ 18th Street
San Francisco , Ca
8:00pm $5
Information: (415)621-2936

August 7
NOERTKER'S MOXIE
SIMM Series/Outsound Research
Musicians Union Hall
116 9th St @ Mission
San Francisco, Ca
7:30 pm $6-10 sliding
August 5
DIFFERENT STROKES
YEHUDIT & BETH SNELLINGS
Healdsburg Society for Music and Art
The New Music Conservatory
431 Center Street (near the Raven Theater)
Healdsburg, Ca
8:00pm $10/$5
Information: (707)433-4762

August 4
TOM NUNN
Luggage Store Gallery New Music Series
Luggage Store Gallery
1007 Market St.
San Francisco, Ca
8:00 pm $6-10 sliding
also with David Slusser, Larnie Fox
July 17
The Strings Project featuring
DIFFERENT STROKES
YEHUDIT & BETH SNELLINGS
with Mark Chung & Walter Savage
The JazzSchool
2087 Addison Street
4:30 pm no cover
Berkeley, Ca
Information/reservations:
(510)845-5373

July 21
The Illuminated Cooridor & Outsound.org Presents...
The 2005 Edgetone New Music Summit
Luggage Store Gallery
1007 Market St.
San Francisco, Ca
8:00 pm $10 Student/Senior/artist, $12 general
Matt Davignon
MIRE
DJ Tenshun

July 22
The Illuminated Cooridor & Outsound.org Presents...
The 2005 Edgetone New Music Summit
21 Grand
416 25th St
Oakland Ca
9:00 pm $8 Student/Senior/artist, $10 general
BRAN (...) pos, XOME, TINA BUTCHER, STIMBOX,
C.J. REAVEN BOROSQUE, DAVID KENDALL

July 23
The Illuminated Cooridor & Outsound.org Presents...
The 2005 Edgetone New Music Summit
Oakland Metro
201 Broadway Near Jack London Square
Oakland Ca
9:00 pm $10
The Illuminated Coorador Project with
TRI-CORNERED TENT SHOW CD Release Show
also with Big City Orchestra/PornOrchestra

July 23
JON BRUMIT
SPACE | alternative arts venue
538 Congress Street
Portland, ME
207.828.5600
9:00 pm $10
Jon will establish an office in SPACE for the execution of his project "Vendetta Retreat."

July 24
The Illuminated Cooridor & Outsound.org Presents...
The 2005 Edgetone New Music Summit
21 Grand
416 25th St
Oakland Ca
7:00 pm $10 Student/Senior/artist, $12 general
Jim Ryan's Forward Energy, Thollem/Rivera,
Jason Robinson, Bob Marsh/David Michalak
Available July 23rd, 2005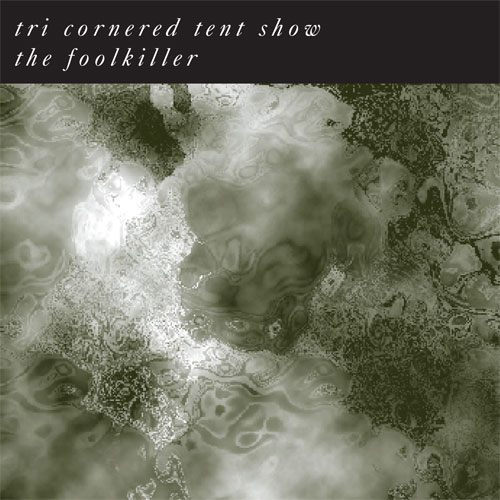 Tri-Cornered Tent Show-The Foolkiller EDT4033




Tri-Cornered Tent Show presents The Foolkiller, a post-apocalyptic poetr,y music, and song portraying rage, revenge, and redemption, transcending the acts of murder madness and mayhem commonly defined as war religion and politics. Sporting an extended ensemble of some of the finest improvisers from the San Francisco Bay Area, The Foolkiller spreads its shadow across a wide array of style and sound creating one this year's most innovative operatic improvisational theme pieces. A must have for those who like to collect abstract and obscure reference music.
July 10
DIFFERENT STROKES - CD Release Show
YEHUDIT & BETH SNELLINGS
Also
NOERTKER'S MOXIE
SIMM Series Musicians Union Hall
116 9th St. @ Mission
7:30 pm $10/$8
San Francisco, CA
June 11
MARY-Jim Ryan & Bob Marsh
1510 8th Street
Oakland, Ca
8:00 pm $6-10
with Eric Glick Rieman & Ma++ Ingalls
June 12
NOERTKER'S MOXIE
SIMM Series Musicians Union Hall
116 9th St. @ Mission
San Francisco, CA
7:30 pm $10/$8
with Edmund Welles' Bass Clarinet Quartet
June 12
THOLLEM MCDONAS, DINA EMERSON
Berkeley Arts Center
1275 Walnut Street
Live Oak Park
Berkeley, CA
7:30 pm $10
with Merlin Coleman
June 22
THOLLEM MCDONAS
Live on KAOS FM
Olympia, WA
June 23
OLUYEMI THOMAS with Damon Smith
Luggage Store Gallery New Music Series
1007 Market St @ 6th
Near Powell Street BART
San Francisco Ca
8:00 pm $6-10
with Zach Hash / Seth Johnson duo
June 23-26
THOLLEM MCDONAS solo
11th Annual Olympia
Festival of Experimental Musics
Olympia, WA
June 27
LORDS OF OUTLAND
Hotel Utah
500 Fourth Street @Bryant SF
San Francisco, CA
8:00 pm $7
with Scott Hill Ensemble & CKW Trio
June 27
THOLLEM MCDONAS solo
Polstar Gallery
sound of the underbrush series
1412 18th Avenue at East Union
Seattle, WA
June 27
OLUYEMI THOMAS with
Jen Baker, Damon Smith, Jerome Bryerton
Bottom of the Hill
1233 17th Street
San Francisco Ca
8:00 pm
June 4
C J REAVEN BOROSQUE with Ellen Weller
SPRING REVERB 2005
4th Annual Festival of Creative Music, Dance and Art
Voz Alta Project
1544 Broadway - East Village
(northwest corner of 16th and Broadway)
San Diego, Ca
2:00 pm
with Marianthi Papalexandri + Scott Walton
Baiyon, Jeremy Drake + David Kendall + Tucker Dulin
Bertram Turetzky, Eric Glick Rieman + Lisle Ellis
Positive Knowledge, Mark Dresser
Rob Rowland + Eamon Doyle + Hans Fjellestad, Titicacaman
June 6
MATT DAVIGNON
Matthew Sperry Memorial Festival
21 Grand
416 25th St @Broadway
Near 19th Street BART
Oakland Ca
8:00 pm $6-50
with Phase Chancellor, John Bischoff, Kenneth Atchley

May 26, 28, 29
MOE!KESTRA!
Dance Mission Theater
3316 24th St.
San Francisco, Ca
9:30, 7:30, 5:30 pm $17.00 each show
contact: 415-273-4633

May 28
SCOTT LOONEY
1510 8th Street
Oakland, Ca
8:00 pm $16-20 sliding scale
with Oliver, Paul Smoker, Lisle Ellis

May 28
JON BRUMIT/WAYNE GRIM
8th Annual Music for People and Thingamajigs Festival
Oakland Metro Theatre
201 Broadway
Oakland, Ca
8:00 pm $10 gen/$5 stu.
contact: 510-524-4226

Available June 1st, 2005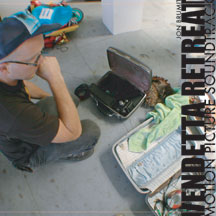 Jon Brumit - Vendetta Retreat EDT 4031




Jon Brumit's composed and improvised music incorporating percussion, electronics, sampling, found objects, and signal processing has been labeled "physically debilitating" and "intellectually refreshing" by art critics, and his performances have been declared "disarmingly powerful" and "extremely adventurous and explosive [for ambient music]" by rock and noise musicians. Not bad for an artist whose last release was made entirely with garbage from the San Francisco Dump.
Vendetta Retreat is an amalgmation of Jon's sound and visual explorations.
Set to a Motion Picture yet to be made, Jon plans to create the visual project based on clips supplied by anyone wishing to contribute.

June 1
C J REAVEN BOROSQUE
IL CORRAL
664 North Heliotrope Dr. (just south of melrose)
Los Angeles, Ca
9:00 pm
with Baiyon (japan)
Anna Homler++Steuart Liebig
Sykora
David Rothbaum, Jeremy Drake, Bob Bellerue trio

June 2
C J REAVEN BOROSQUE with Robert Montoya
SPRING REVERB 2005
4th Annual Festival of Creative Music, Dance and Art
Museum of Contemporary Art San Diego
1001 Kettner Blvd. at Broadway
San Diego, Ca
7:00 pm
with Baiyon (Japan) + Hans Fjellestad (San Diego)
Rob Rowland + Eamon Doyle (Ireland)
Obscuricon (San Diego)

Available April 14th, 2005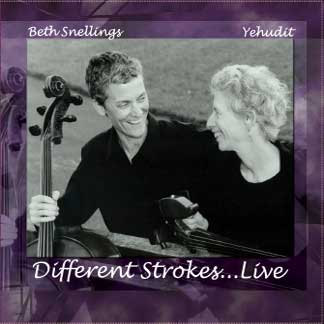 Yehudit & Beth Snellings Different Strokes
Different Strokes...Live EDT 5004



Different Strokes, featuring violinist Yehudit and cellist Beth Snellings, creates a fusion of jazz and classical influences, incorporating arrangements of tried and true jazz classics, compositions by contemporary jazz masters, and some very unique and lush originals. The project manifests the warmth that only strings can provide. The duo's classically influenced arrangements create melodic and rapturous pieces full of emotion and lyricism, while their deft arrangements of jazz standards remain true to the style and spirit of these classic tunes.
The result is a powerful combination of beauty, elegance, sophistication, and swing. A must have for any jazz fan.
Availble March 21, 2005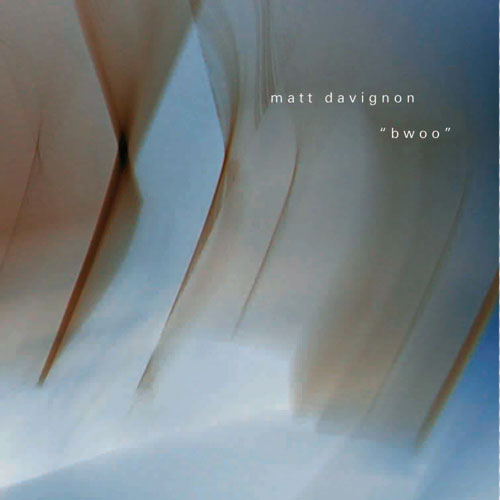 MATT DAVIGNON
"Bwoo"
Edgetone Records EDT 4030


Matt Davignon has developed a unique form of improvisation over the last 10 years, focusing on textures, arrhythmic patterns and musical imperfections.
Creating music that is at once elemental and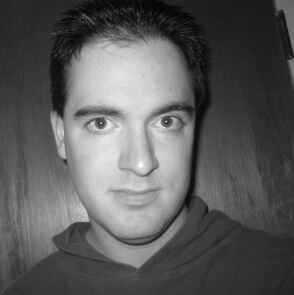 intricately ambient, he explores the outer dimensions of experimentation, exploring the dynamic relationship between chaos, order, and indeterminism.
His latest project, "Bwoo", evokes biology, and the mystery of elemental structure in nature and in sound. Using a drum machine as his singular sound source, he warps, bends, and multiplies the beats, creating sound-scapes as diverse and ambient as they are complex and organically beautiful.

March 20
THOLLEM/RIVERA
Musicians' Union Hall
116 9th St. @ Mission
7:30 pm $10, $8, $5
San Francisco, Ca
*CD Release Concert
SIMM Series

March 5, 2005
In Stores Nation-Wide
May 3, 2005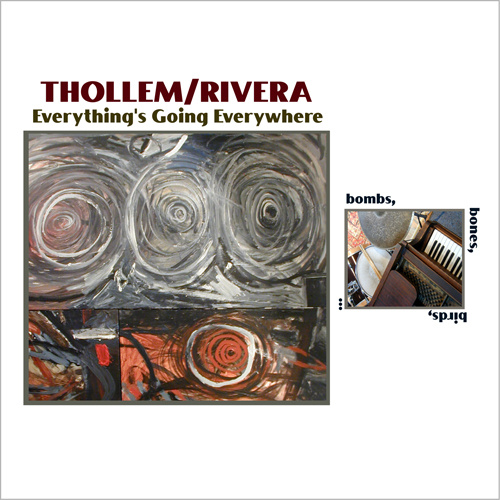 THOLLEM/RIVERA
Everything's Going Everywhere
Edgetone Records EDT 5005
Featuring pianist Thollem Mcdonas and drummer Rick Rivera bring to the jazz world a sonic journey bursting with excitement well needed in jazz

and improvisation in the 21st century. Drawing from such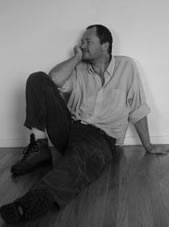 diverse forms of inspiration as nuclear bombs, modern classical and Arabic music, to free jazz, punk, and traffic sounds, these two musical Iconoclasts transcend the past and the limits of their influences, re-organizing traditional ideas into a sonic commentary about the space between rebellion, politics, and hummingbirds. The reviews across the world have hailed Mcdonas as a "genius", "a very original...fresh voice".
On sale at Edgetone Catalog