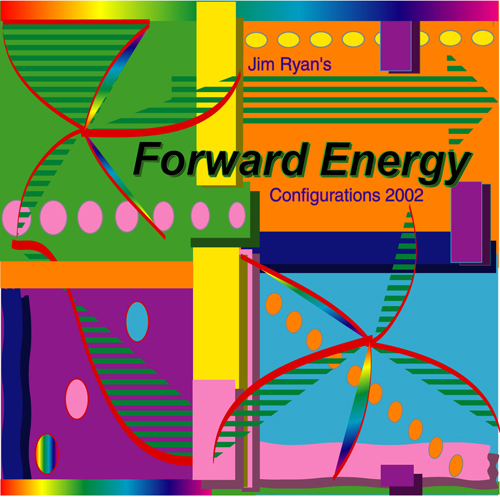 CD $22
Special Value
Jim Ryan's Forward Energy Configurations Double CD and Where Are They? and get at an additional $5.00 off


Buy Together Today: $30
Buy at Bandcamp


In what appears to be taking shape as the dark ages of the early 21st century, simply endorsing the music that comprises Configurations 2002 – buying it, listening to it, and above all making it -- can be seen as an act of rebellion. With political and cultural hegemony increasingly becoming the new world order of the day, radical free-thinking creativity runs directly counter to the seemingly inexorable tendencies of globalization and AOLTime Warner assembly line entertainment. It takes refuge in such virtually undisclosed locations as 21 Grand, The Luggage Store Gallery, 1502 Performance Space, and Kimo's, venues unknown to the general public while faithfully sustained by the San Francisco Bay Area's creative music community. On one day in May, 2001, and three
days in January, 2002, Jim Ryan gathered the various configurations of his aptly named Forward Energy ensemble in those subterranean haunts and recorded five hours of spontaneous music-making, which have been distilled into this potent double CD.
"Listeners will be surprised just how, well, listenable this record is. That's because its most solid, lively moments challenge the popular conception that improvised music
is merely noise. Ryan's successes are making listeners
think about and feel his music."
-Jay Breitling, Splendid

"This recording provides a robust showcase of some
veteran improvisers who deserve greater notice."
-Adam Hill, Signal to Noise

"Aylerian cries…carnal tones… mammoth…the
compositions mix hard bop, new thing and fusion
impulses, Robinson's rock solid beat keeps the time
steady enough for Ryan on alto to show that fealty to
David "Fathead" Newman and Hank Crawford
soulfulness enlivens his avant-garde leanings..."
-Ken Waxman, Jazz Weekly

"This is music that, repays close listening…a psychic connection so necessary for repeated hearings…
a late-sixties Atlantic groove with free interplay
over the top and it works very well."
-Steve Koenig, one final note

A philosopher by academic training and a prolific author, Ryan took up music during the late 1960s while living in Paris. Already a fan of bebop, and a nascent bohemian in circles that included William Burroughs and Allen Ginsberg, he came under the sway of expatriate avant-garde jazz artists, including Archie Shepp, Anthony Braxton, the Art Ensemble of Chicago, and Steve Lacy. When he returned to the U.S. in 1975, settled in California in 1987, and emerged as a force in the Bay Area improv scene in the mid-1990s, Ryan brought with him both a deep knowledge of jazz history and an uncompromising dedication to freedom of expression. Configuratons 2002 is a full spectrum summation of Ryan's musical history and experience, realized in moments of extemporaneous collaboration with like-minded co-conspirators.
The shifting alignments on Disc 1 find Ryan playing alto and tenor saxophones, flute, and small percussion in settings ranging from duos (with the dynamic percussionist Spirit, known for his work with Oluyemi and Ijeoma Thomas in Positiive Knowledge) through trios (adding Southern California tenor saxist Alicia Mangan) and quartet (with Damon Smith on contrabass) to quintets (Scott Looney on piano, prepared piano, and melodica) and sextet (alto and soprano saxist Rent Romus joining the reed section). In a sense, these sessions set the foundation for the concert recordings captured on Disc 2. "Jump Start," "Interchange with the Unknown" and all the tracks between introduce the key Forward Energy voices – Mangan's Albert Ayler and Charles Gayle-influenced approach; Looney's virtuoso command of the keyboard in a post-Cecil Taylor world; Smith's growing physical dexterity and ability to provide both pulse and harmonic color; Spirit's spaciousness and power; Romus' ferociousness; and Ryan's connection to so many threads in the jazz tradition, including what may or may not be fleeting allusions to such standards as "The Very Thought of You" or "Body and Soul" cropping up in the most unexpected places.
On Disc 2, the palette and energy expand, as Looney introduces his cannily manipulated laptop computer and electronics, and bassist Adam Lane (leader of the Full Throttle Orchestra), drummers Peter Valsamis (who performs with pianist Dana Reason and the group Trance Mission, among others) and Donald Robinson (longtime associate of the late Glenn Spearman), trumpeter Eddie Gale (known for his early work with Cecil Taylor and Sun Ra), and alto saxophonist John Gruntfest (a too-seldom-heard pioneer of Bay Area improvised music) join the often stormy proceedings. What keeps the free-for-all music from falling into utter chaos is the collective commitment to listening. Musicians paying attention to what is happening in the moment can cut to the heart of human communication, without words or concepts. Ryan chose his collaborators for their intuitive sensitivity and flexibility, approaching the sessions and concerts with faith in the musicians rather than composed tunes. He attributes much of the success of this, his third Forward Energy recording, to "good planning." In Forward Energy music you hear honest, detailed, and sometimes extreme articulations of the raw life force. Ryan says he is compelled to make such music because he "just wants to live." Moving ahead on that impulse with courage and creativity can be an act of beautiful sedition, opening us as listeners to new path and possibilities in our own lives.
- Derk Richardson, San Francisco Bay Guardian, SF Gate.com

Disc 1
Jim Ryan- alto/tenor sax, flute, percussion
Alicia Mangan- tenor sax
Spirit- drums/percussion
Scott R. Looney- prepared piano, melodica
Rent Romus- alto/soprano sax
Damon Smith- contrabass violin

Disc 2
Jim Ryan - alto/tenor sax
Eddie Gale - trumpet
John 'Waveman' Gruntfest - alto sax
Alicia Mangan - tenor sax
Peter Valsamis - drums
Donald Robinson - drums
Spirit - percussion
Scott R. Looney - e-piano, laptop computer electronics
Rent Romus - alto/soprano sax
Damon Smith - contrabass violin
Adam Lane - contrabass violin