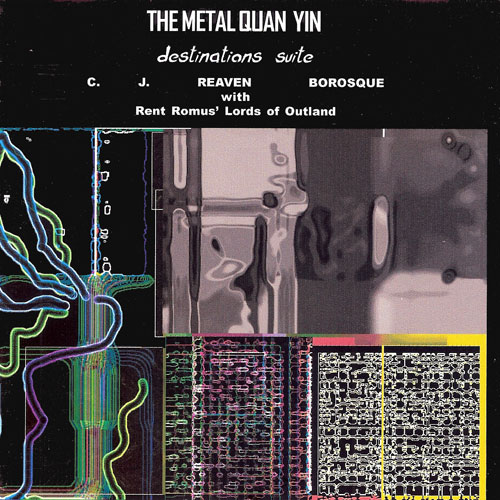 Special Value


Buy CJ Borosque's The Metal Quan Yin CD and get The Book at an additional $7.00 off


Buy Together Today: $15

CJ Borosque San Francisco Bay Area interdisciplinary artist, writer, musician, and abstract visual artist. Edgetone is proud to present her new book "The Metal Quan Yin", a new and original work of imaginative and stunningly visual science fiction/fantasy poetry.
In 2000, The Lords of Outland presented a series of new music pieces based on her exploratory writings entitled "The Destinations Suite" in the first season of the SIMM Series in San Francisco. In April of 2002, Edgetone has released an addition to her new book a CD of music written to her works by Rent Romus' Lords of Outland.
CJ Borosque - reading
Jesse Quattro - voice, reading
Danielle Degrutolla - elec. cello
Bill Noertker - bass
Dave Mihaly - drums
Rent Romus - reeds, reading
Toyoji Tomita - trombone




Buy at Bandcamp
Buy at Apple Music
Buy at Amazon


"Borosque's poetry is deep…it deals in abstract areas of the mind, and usually hits with short, muscular punches amidst the free blowing of Romus and the group." - Frank Rubolino - Cadence/onefinalnote.com

"The fiery combination of poet and band shoots these pieces straight for the edge of space and time. Blistering thought--both musical and poetic."
-J. Worely, Aiding & Abetting

"The energies of life are abundant here, & you will hear the beauty of Reaven's dreams as well as the screams in her nightmares."
-Rotcod Zzaj, Improvisationation

"Her often-sophisticated couplings burst with the tension of the moment, while her musical partners plummet depths of emotion… there is Dionysian fury, an ecstatic delivery, and a coming together of seemingly disparate elements." -Steven Loewy, All Music Guide

"'Burning with the Fever of this here Star'," is a fine piece of retro-seventies European Jazz. Peter Brötzmann comes to mind."
-Dusted