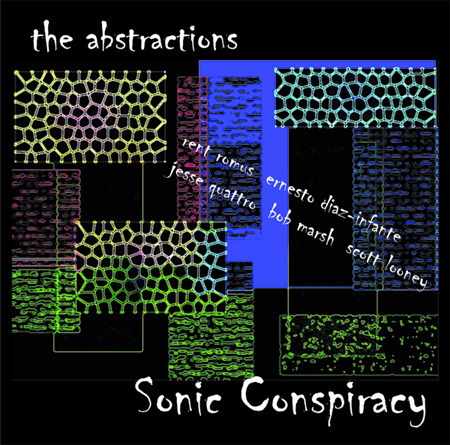 Special Value


Buy The Abstractions Sonic Conspiracy and get Ars Vivende at an additional $5.00 off


Buy Together Today: $21
The Abstractions, named by poet/author C.J. Reaven Borosque, was created by Bay Area musician/producers Ernesto Diaz-Infante and Rent Romus. From that creation out grew the collective ensemble you see before you. Taking elements from a cross section of music genres and backgrounds, The Abstractions present an unclassifiable raw set of new sonic surreal textures forcing thought and feelings about life and culture in the real world. Drawing from an improvisational body of knowledge, the unspoken words transformed to music, history, and social insight make up the musical repertoire.

Buy at Bandcamp
Buy at Apple Music
Buy at Amazon


"THE ABSTRACTIONS build a Frankenstein monster from
a vast body of improvisational knowledge parts history,
social insight, music & (un)spoken word. Awakened, the
thing clumsily smashes windows, pewter, porcelain & all
things fragile or bric-a-brac, stalks the surrounding countryside with a range of unclassifiable new sonic textures whilst making a few (collect) telephone calls, cross-dressing on the run, fleeing before an army of crazed villagers & eventually coming to the attention of the commander-in-chief of Military Police & H-bombs
- Mitch LeMay, KFJC Radio

"…cautiously sculpted shapes and frenetic eruptions on the borders of unruliness." - Julian Cowley, The WIRE

"Psychotic and gorgeously bludgeoning take on improv death-jazz, with harrowing and paint-peeling vocals, careening, falling-down-the-stairs guitar..." - Cactus, KUSF

"They appear intent on disrupting the status quo…it is better to let the mass hysteria flow and absorb the vibrations."
-Frank Rubolino, one final note

"As a modern art form blending the visual abstract
and surreal with the audio musical equilvent, Sonic Conspiracy paints a sonic and invigorating landscape."- Jackalblaster

"...an abyss of spontaneous outbursts. Such a sound pushes the limits of the mind by testing the existential qualities of dysfunctional noise."
- Josh Kazman, Splendid

"One moment the musicians will be taking a breather playing peaceful jazz peppered with tinkling vibes that sound like one of the back alleys of Mr Roger's neighborhood...Then in an instant they'll launch into an offensive that rivals Naked City at its harshest." -Jerry Kranitz, Aural Innovations

"Hell, a couple pieces here make regular "free jazz" sound like a minuet. Still, within the chaos there is reason. A plan. Design."
- J. Worley, Aiding & Abetting

"…the wind blowing strong shafts, turmoil raising an angry head, the sax ululating, the drums skittering, the vibes measuring time. Voice rises in supplication…"
-Jerry D'Souza, All About Jazz

"This CD literally screams - Everything is percussive, breathing, lo-fi, jumping all the way, never detached, always bloody and urging the listener to do something, sometimes irky to the ears, but absolutely lively; and, to me, all this means a good mark."
-Massimo Ricci, TOUCHING EXTREMES

"If you think Mike Patton should have never met Zorn, stay away. Otherwise proceed with caution, but please do proceed."
-François Couture, All Music Guide

"...speak of the devil. this one dropped into the player awhile after i was listening thru the latest yoko ono, and here come the abstractions, featuring the whoops and vocal gymnastics of one jesse quatro."
-b . w i l d e r e d, d e s i d e r a t a

"Quattro's Westcoast Shelly-Hirsch-Zunge with exaggerated jagged razor blade claws, makes me feel virtually hunted in the trees."
- Robert Dittmann, Bad Alchemy

"They reveal a substance hitherto little studied, the possibilities of escape are multiple presenting tracks without true limits. This formation has a
beautiful future." - Jazzosphere #17