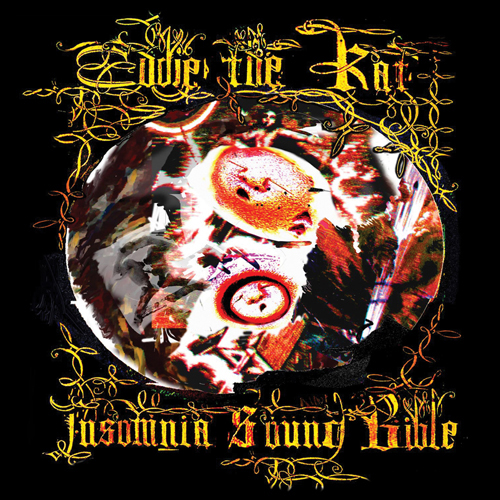 CD $13
Special Value


Buy Eddie the Rat Insomnia Sound Bible and get Out Behind the 8-ball at an additional $4.00 off

Buy Together Today: $22
Eddie the Rat
Insomnia Sound Bible
EDT4060
Eddie the Rat is the pseudonym for composer and multi-instrumentalist, Peter Martin. Starting in 2000 as a one-man electro-acoustic experiment in sound and composition, within a year Martin's vision evolved into a performing group bearing the same name. During the first two years of the group's existence, the ensemble usually consisted of no less than 12 members and included members of 7 year rabbit cycle, Secret Chiefs, Zen Guerrilla, and others. "Insomnia Sound Bible" is a recording of the shorter songs that were being played alongside larger scale pieces in the group's live sets at this time.
"Insomnia Sound Bible" is the songbook to a sleepwalker's guide through oblivion.
Its soundscape is made of violins and cellos, trumpets and clarinets, lots of percussion and homemade instruments, and telepathic harmonizing and other voices. As with all Eddie the Rat recordings, the intention is for the CD to be listened to as a whole, however, these are songs which can also be taken in their own context.

Listen to: Cahoozle Blooze from Insomnia Sound Bible

Buy at Bandcamp
Buy at Emusic
Buy at iTunes Music Store
Buy at Amazon MP3

"True to its name, this collection of songs really does evoke the feeling of wandering about within one's own psyche, the fleeting glimpses of so many disorganized thoughts playing tantalizingly across the mind's eye in a dream-like state from which one cannot escape. Blissfully bizarre!"
-Ian Hall, Chain DLK

"The sort of album I can curl up with next to the fire--or shoot straight into my veins for a pure rush. It's really cool when an album can do so much at once.
-J. Worley, Aiding & Abetting

"most of what's on display here more closely resembles the hallucinatory sound of wave transmissions from the dream world. This is abstract music for those crossing the threshold between the waking world and the inner landscape of dreams, with all the peculiar logic and mystery that such a juxtaposition entails. "
-RKF, Dead Angel

"A lot of sonic ideas are crammed into these sixteen tracks, each a completecsoundscape that works to form a complete whole environment...Driven by homemade instruments, woodwinds and percussion, along with at times haunting vocals and harmonies, any of the tracks are rich and effecting..."
-Mike Wood, Foxy Digitalis

"Everyone involved here is experimenting as can be seen for example with the vocals in "Freak Out and Die" (kind of Robert Plant-ish in some parts). Different tempos and different structures are developed here creating different worlds of experimentation on each tune, Every tune here is a surprise for the listener and a showcase of good musicianship and originality. A release that is totally recommended."
Music Extreme

"In each piece we find strange breaks and twists... Eddie the Rat is a promising project of theatrical and dramatical potencies."
-Dolf Mulder, Vital Weekly

"...sounds of another world, the devil a sevenheaded-Martin, said, you know from stories through music and the disc comes to have moments of very high level."
-Eduardo Chagas, Jazz e Arredores

"Fans of Residents, Shockabilly, other demented artists who twist perfectly "normal" instruments into anything but. Improv feel at times, overall demented abuse of guitars, trumpets, male and female vocals. Smarmy burlesque tones, pots and pans dirtiness a la Pussy Galore or Nick Cave doing dishes. Moments of Lemon Kittens, Danielle Dax. Definitely very strange stuff from these local favorites."
-KZSU 90.1 FM Stanford CA

"It's as if Captain Beefheart, Zappa and Tom Waits all took hits from the same bong and got together for an impromptu jam session."
Sea of Tranquility
Dione Ardania - vocals
Jay Arseneult - electric bass
Vonn Scott Bair - vocals
Geoff Ball - vocals
Heather Bradley - vocals
Ronnie Camaro - electric bass
Lisa Cooper - vocals
Ed Daranciang - electric guitar
Rich Doucette - esrag
Darren Donahue - electric guitar
Brandon Foust - percussion
Blind Lemon Glickman (Steve Gigante) - guitar, vocals
Jesse Hix - standup bass, contrabass, percussion, vocals
Carl Horne - electric bass
Warren Huegel - percussion
Olivar Kobar - national guitar
Matt Kyte - triangle, percussion, keyboards, vocals
Floyd Labar - vocals
Jeanette Labar - vocals
Bill O 'Mahony - electric guitar
Peter Martin - vocals, acoustic and electric guitar, harmonica, clarinet, keyboards,
percussion
Jon Meyer - vocals
Yevlac Nad - percussion
Rahul Parson - acoustic and electric guitar
Tim Parker -slide guitar
Perrish - trumpet, vocals
Geoff Reed - drums and percussion
Karen Schumacher - violin
Ches Smith - drums and percussion
Nina Sprick - vocals
Molly Tascone - vocals
Scott Thiessen - electric guitar
Taylor Walker - electric bass
Pat Vasta - vocals