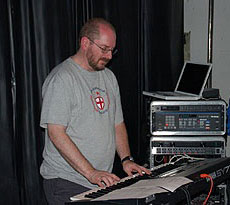 Seth Elgart grew up in the 1960s listening to his father humming Greensleeves, to his uncle playing the accordion and to his sister strumming away on the acoustic guitar. His family had a spinet piano in the apartment, and although he never had any piano lessons, he still somehow managed to discover sus4 chords on his own at an early age. He later appropriated his sister's guitar and learned to play folkie protest songs while taking group lessons with what he now realizes was a beautiful, left-wing, radical hippie girl. As he was only eight years old at the time, perhaps he can be forgiven for not noticing how wild and crazy (and influential) those guitar lessons were. In school, Seth learned many other instruments, including the baritone horn, flugle horn, trumpet and violin.

Seth grew up listening to WNEW-FM in New York City. The Beatles, Hendrix, the Jefferson Airplane, the Doors, the Who, the Rolling Stones. Then one day, his sister's college DJ boyfriend took them to the WNEW Christmas concert at what was then called Philharmonic Hall. It was December 1972, he was 12 years old, and it was his first concert. It was Genesis. Peter Gabriel wearing giant papier mache masks, Steve Hackett with his incredible guitar tones, and Tony Banks blasting the hall with Arp synthesizers and his thundering Hammond organ. For Seth, those sounds were a mind-blowing revelation. After that came Rick Wakeman and Yes, and on that fine day when he was holding the record covers for both Fragile and The Six Wives of Henry VIII and realized that the keyboard player on both was the same person, Seth's course was set. Then, still on WNEW, there was Allison Steele, the nightbird. Throughout his teenage years, Seth would keep the radio on late at night at low volumes so he wouldn't get caught, all so he could be introduced to Edgar Winter's Frankenstein, Synergy, and finally, to Tangerine Dream. In the late 1980s, with money he was awarded from a car accident he was involved in when he was 10, Seth bought his first synthesizer: a Minimoog Model D (which he still has).

That was just about the time that Seth was introduced to drummer E. Doctor Smith, and the two have been making music ever since. From that first jam session in the 8th Avenue music building in New York City, to Washington DC recordings for theaters, to recording during rare DC blizzards, to playing and recording in the woods in upstate New York, to gigs and modern digital recording in San Francisco, Seth and "the Doc" have been playing all sorts of music for quite some time. Seth has also played in other bands, such as Bangtime with Doc and Chapman stick player Steve Ellison. He also played for many years with Everest, a band he formed with guitarist Steven Britt. Seth and Steven met in college at the NYU radio station where both were DJing. The introductions went as follows: "Oh, have you met the -other- Todd Rundgren fan?"

Nowadays, though, Seth is working with E. Doctor Smith on their K2 project. Somewhere between electronic, ambient, and rock and roll, K2 is two guys and a whole pile of electronics making music that is filled with shimmering textures but at the same time has rhythm as well.