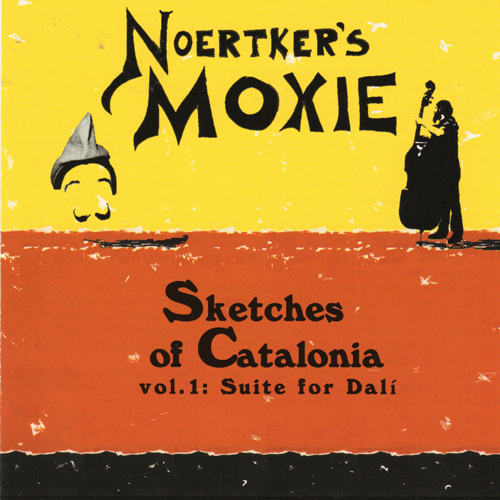 Special Value


Buy Noertker's Moxie Sketches of Catalonia Vol. 1: suite for Dali andVol. 2 suite for Miró and get at an additional $4.00 off

Buy Together Today: $22
Inspired by the paintings of Salvador Dali and bassist Bill Noertker's journeys through Catalonia, Sketches of Catalonia takes the listener to a place were jazz melts into surrealism. What Dali did for painting, this CD does for jazz. Deep swing morphs into circus melodies. Beauty fades into cacophony. At times raucous, at times pensive, always soulful, this CD takes you on an aural pilgrimage to Catalonia, birthplace of many innovative artists.

In the last decade, Bill Noertker has composed over 150 original pieces of music for jazz ensemble. His compositions point to the continuity between the jazz tradition and the avant-garde. His use of group improvisation and his attention to the individual voices of each of his bandmates call forth the human element so sorely missing from much of today's jazz.




Buy at Bandcamp

" Arriving out of left field...this CD offers up West Coast
jazz of unexpected verve and originality from a hitherto uncelebrated composer."
- Ken Waxman, Jazz Weekly/Jazzword

"... the feel is very inviting... Each piece is named after (and inspired by) a Salvador Dali painting... the complexity of the writing is more than enough to give a good sense of the visual originals."
- J. Worely, A&A

"... some excellent stuff."- KZSU FM radio

" These are much more than random sketches, though, fully fleshed-out abstract paintings, that Dali would have been proud of (if he dug jazz, that is)."- Rotcod Zzaj

" Good chamber jazz with a slant; what else would suit this hommage to the great Catalan surrealist
by bassist Bill Noertker's ensemble?" - Steve Koenig