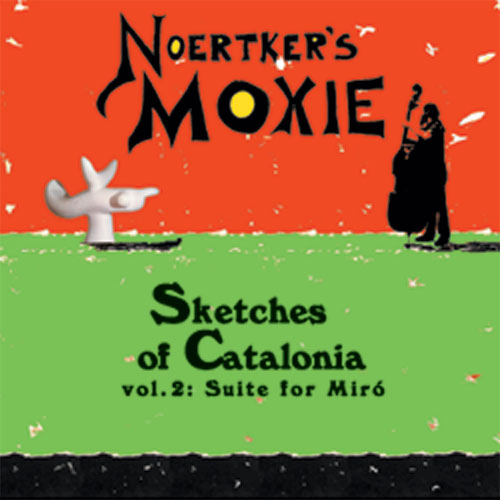 Special Value


Buy Noertker's Moxie Sketches of Catalonia Vol. 1: suite for Dali andVol. 2 suite for Miró and get at an additional $4.00 off

Buy Together Today: $22
Catalonia is the birthplace of many innovative artists, among them Joan Miró, Antoni Gaudí, and Salvador Dalí. In 1995, and again in 2005, I was able to make a pilgrimage to Catalonia to see the works of these great artists in person. Out of these experiences came an extended suite of music, Sketches of Catalonia. This CD is the second part of this suite
and is inspired by the life and work of Joan Miró. A CD based on Dalí is already available on the Edgetone label. A CD based on Gaudí will follow.

In the last decade, Bill Noertker has composed over 150 original pieces of music for jazz ensemble. His compositions point to the continuity between the jazz tradition and the avant-garde. His use of group improvisation and his attention to the individual voices of each of his bandmates call forth the human element so sorely missing from much of today's jazz.

Bill Noertker - contrabass

Annelise Zamula - tenor saxophone, flute
Jason Levis - drums
Jenny Maybee - piano
Jim Peterson - alto and baritone saxophones, flute
Niels Myrner - drums
Yehudit - 5-string electric violin
Hugh Schick - trumpet


Buy at Bandcamp
Buy at Applw Music
Buy at Amazon

"Noertker's love of the artists and the atmosphere of Catalonia is clear, and in addition to being a labor of love, these releases are also able to stand in their own right as adventurous and inspiring jazz." - Mike Wood, Foxy Digitalis

"Intriguing contrapuntal combinations and disguised virtuosity help to find the way to an instant comprehension of Noertker's intention. It's difficult to name a favourite track, although the double whammy of "The red sun" and the subsequent "Harlequin's carnival" deserves a place in the light - truly great music, independent from genres." - Massimo Ricci, Touching Extremes

"...quiet, reflective music..." - RKF, Dead Angel