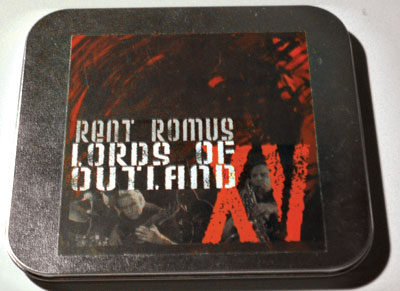 Special Value


Buy Lords of Outland You can sleep when you're dead! and XV limited edition) at an additional $5.00 off


Buy Together Today: $25
The Lords of Outland is a rotating collective of ensemble members under the direction of saxophonist and producer Rent Romus. Throughout the Lords' fifteen year history in the spirit of free form experimentation its core roster has changed numerous times featuring guests John Tchicai, James Zitro, Kash Killion, and many others.
The group currently features CJ Borosque no-input pedals and trumpet, Philip Everett drums, percussion and electronics, and Ray Schaeffer electric basses, lead by Rent Romus on alto, soprano, C-melody saxophones, voice, and electronics. Contained in XV are live public recordings covering a wide range of original jazz and improvisations many of which have never been released from 1994-2008 and, on disc two a new full length project recorded in 2009.

Rent Romus - alto, soprano, and C-melody saxophones, voice, electronics
CJ Borosque- no-input pedals, trumpet
Ray Schaeffer - 6-string electric bass
Philip Everett - drums, autoharp, electronics

Guest Artist:
Kash Killion - cello
James Zitro - drums
Jason "Jay O" Olaine - trumpet
Vytas Nagisetty - doublebass
Andrew Borger - drums
John Tchicai - tenor saxophone
Jonas Westergaard -doublebass
Joel Harrison - electric guitar Dave Mihaly:drums
Doug Carroll - electric cello Tom Nunn:T-rhodimba
Toyoji Tomita - trombone Bill Noertker:electric bass Andre Custodio - electronics



Buy at Bandcamp
Buy at Apple Music
Buy at Amazon MP3

"...a fascinating chronological timeline to listen as original jazz morphs and contorts into improvisational noise. From sentimental to free jazz metal infusing multiple genres of music with the help of electronics."
Thee Opinataur, KFJC 89.7FM