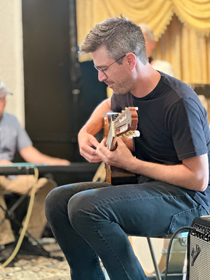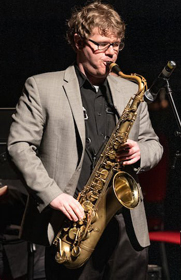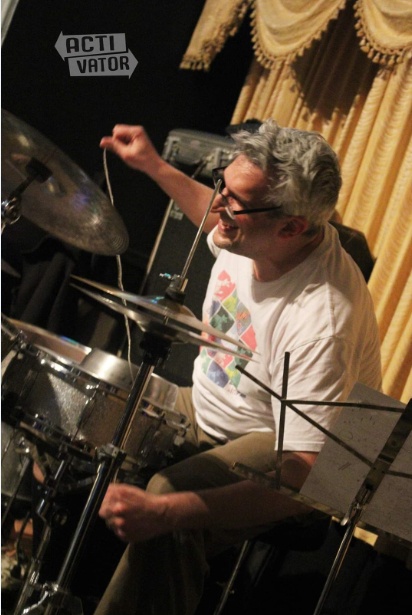 Freedom Therapy Trio formed on campus at the University of Illinois soon after free jazz drummer and percussionist Richard Gilman-Opalsky began playing with improvising guitarist Adam Larison. The two were joined shortly thereafter by saxophonist and flutist Brian Stark. Freedom Therapy Trio takes listeners on a journey of instantaneous composition, traversing sonic terrains from textural, minimalist sound paintings through fleeting passages of swinging jazz to the outermost limits of ecstatic collective improvisation. A trio of kindred spirits who found one another at a particular moment in time when the replenishing healing force of creative music was necessary, and possibly even inevitable. The trio developed a telepathic sensibility and organic sound unified in the cause of sharing joyful therapeutic musicking with adventurous ears and courageous hearts.

Guitarist Adam Larison is active in improvised and European art musics. He has performed across the U.S. and internationally with notable performances in the John F. Kennedy Center for the Performing Arts, Carnegie Hall, Tignes Space (Tignes, France), and The Philadelphia Guitar Society. His work has been funded by grants from Arts Midwest and The Ohio Arts Council. He is a faculty member at the University of Illinois Springfield.

Dr. Brian Stark is Visiting Assistant Professor of Music at Colgate University in Hamilton, NY. In his creative work, Brian seeks to forge authentic blends of jazz practices with other musical traditions, including an ongoing collaboration with flamenco guitarist David Chiriboga and the folk-infused Fiddle-Sax Fusion Band. Brian has performed with top bandleaders including Brad Leali, Bob Ojeda, Larry Gray, and AACM member Renee Baker. In addition to Freedom Therapy Trio's At DIM Art House, Brian is releasing recordings as a member of the Afro-Caribbean Jazz Collective and ensembles led by Drs. Andrey Goncalves and Andrew Binder in 2023.

Richard Gilman-Opalsky is a drummer and percussionist, as well as a professor of political theory and philosophy at University of Illinois, Springfield. Gilman-Opalsky is mostly known for his many books on critical theory and revolutionary politics, but he has also played drums in various groups for over 30 years, working in the avant-garde jazz, underground, and experimental music scenes of New York City from 1997-2006. Gilman-Opalsky has recorded with Blaise Siwula, Katsuyuki Itakura, Ben Kates, and John Gruntfest, among many others. He is a founding member of End Times Trio, the longest-running improvising jazz ensemble in central Illinois (active since 2006).