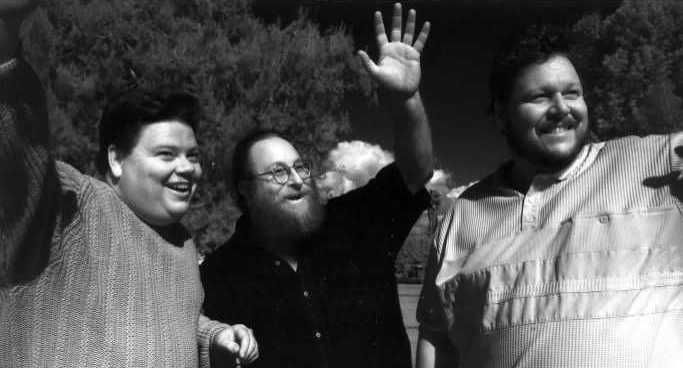 The musicians who make up the KLiP trio have worked together off and on in various configurations for more than twelve years and have performed in a wide variety of venues, from concert stages to college campuses and nightclubs throughout California. Their backgrounds are as eclectic as their music, reflecting their involvement in western classical music, avant-garde jazz, industrial, electronic music, as well as funk, bebop, rock, and world music. Individually, they have recorded and/or performed with Marshall Allen, John Butcher, Eugene Chadbourne, Bill Champlin, Gianni Gebbia, Mats Gustafsson, Peter Kowald, Milcho Leviev, Eddie Moore, Jimmy Rowles, Wadada Leo Smith, Glenn Spearman, Saadet Turkos, Phil Upchurch, and Bennie Wallace.
The Musicians:
Elliot Kallen: Originally trained as a concert pianist in Southern California, Elliot has lived in the San Francisco Bay Area for more than thirty years and performed in a variety of musical contexts. Aside from his work with prepared and electronically manipulated acoustic piano and wind instruments, he also makes use of pre-recorded tape and MIDI-controlled sampling devices on stage.
John Lauffenburger: A versatile and exciting acoustic bassist, John is constantly in demand both on stage and in the studio. John makes his home in the town of Visalia in California's Central Valley. His expansive list of credits includes working with Joe Williams and Larry Carlton.
Garth Powell: As a veteran of the Trans-Bay-Area Improvised Music Community, Garth has performed or recorded with a sizeable number of the worlds preeminent artists within the field. He is just as much at home with classical orchestral and world percussion as the trap set. On stage, his large collection of percussion instruments (many of which Garth designed and/or adapted to his own needs) can be a visual treat by themselves. He also makes use of pre-recorded tape and electronically altered voice in performance.
The Music:
KLiP's music comes from so many divergent sources that "pigeon-holing" it is nearly impossible. Influences range from Albert Ayler, John Cage, Miles Davis, Ornette Coleman, Karlheinz Stockhausen, Cecil Taylor, John Zorn, and many others. Elliot and Garth are the primary composers and arrangers for KLiP. Though each of their pieces may have a finely honed interior structure, there is often room for improvisational explorations. Be it a contemplative melodic study or a fierce electronic onslaught, the music of KLiP is that of surprise and discovery.