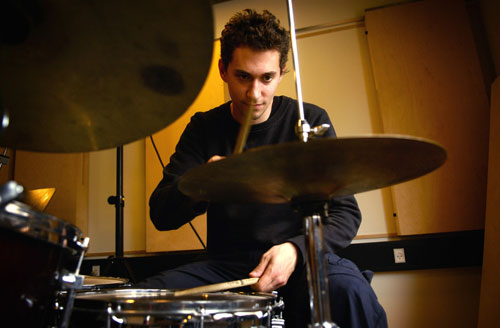 Three time Grammy/Danish Music Award-winner STEFAN PASBORG is a highly energetic drummer from the melting pot of Copenhagen, and after getting a snare drum, a cymbal and a high-hat at the age of three from renowned jazz drummer Alex Riel, he has developed into a very personal musician on the European jazz scene.
During the last years the jazz critics have praised him with words like: 
"…Pasborg definitely prooved that he is one of the best young drummers in Europe… For everyone who appreciates drums and percussion at their best, listen closely to Stefan's work and be amazed… Energetic and extremely competent drumming by Stefan Pasborg. He is an outstanding drummer! …We're dealing with a coming star…If the Danish jazz scene keeps on creating talents like among others Pasborg, it looks like we're entering a new 'Golden-age' in Danish jazz".
He has performed and recorded with musicians like: John Tchicai, Marc Ducret, Ellery Eskelin, Tomasz Stanko, Ray Anderson, Tim Berne, Palle Danielsson, Anders Jormin, Miroslav Vitous, Michael Formanek, Carsten Dahl, Jesper Zeuthen, Alex Riel, Mikko Innanen, Liudas Mockunas, Kjetil Møster, Lotte Anker and Peter Friis Nielsen among others….And has toured the most of Europe and in USA, Canada, Africa and Asia – both as a leader and as a sideman.
At Danish Music Awards 2004 he received two awards. He was selected 'New jazz-name of The Year'…and his release 'Toxikum' was voted 'Jazz Discovery of the Year'. His first release as a leader – TriplePoint (ILK 2007) – was selected into worldwide TOP 5 "Best Debut Albums of 2007″ by All About Jazz Magazine, New York. His latest release as a leader "Pasborgs Odessa – Xtra Large" received a Danish Music Award in 2011.

Artist Website