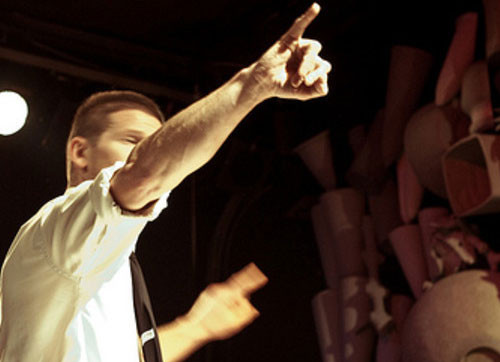 Moe! Staiano is a percussionist who usually uses found objects, other instruments, and drums (i.e. prepared percussion). When he is not directing the massive collective improvisation orchestra known as Moe!kestra he is exploring solo percussion using pipes, food pans, pressure caps, sheet metals, nick-nacks & other stuff that has been found, given or stolen (some from Pizza Hut when he worked there including a nifty Spatula that he bows). One can expect to see Moe!'s show and director's style running around throwing pipes on concrete, walking on pans with his feet to mute sounds or running amok in any given performance. One can expect to see Moe! running around throwing pipes on concrete, walking on pans with his feet to mute sounds or running amok, throwing his body into old cassette tapes or two dozen cymbals in any given performance. He has two CD's out of his solo/collaborative recordings. The second CD, "The Lateness of Yearly Presentations" was released in 2002 on his micro-label Dephine Knormal Musik, a release split with a French label, Amanita Records. The first solo CD "The Non-Study of First Impressions", is now out of print. He finished recording and mixing a third solo CD this year, entitled "The Absolute Tradition of No Traditions" and will be shopping a label for its release.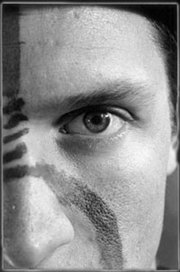 He has collaborated with many musicians including Ron Anderson (the Molecules, RonRuins, PAK), Tom Nunn, David Slusser, Karen Stackpole, Ches Smith, Michael Evans (God Is My Co-Pilot), Caroline Kraabel & John Edwards (Shock Exchange), Gino Robair, William Hooker, Tom Dimuzio and has performed with all these plus Henry Kaiser, Mark Growden's Electric Pinata, Amy Denio, Cheer-Accident, sfSoundGroup among others.

Formaly, Moe! was a member of two important bands: Vacuum Tree Head (formerly doing metal percussion and then playing trap set) and with Sleepytime Gorilla Museum (doing THE metal percussion), a band that consist of Carla Kihlsteadt, Nils Frykdahl, Dan Rathbun (all from Charming Hostess, two from Idiot Flesh) and Mathias Bossi. Sleepytime Gorilla Museum has one release on Seeland (Negativland's label) and a live CD on Sickroom Records from Chicago as well as a second studio album out on Web of Mimicry, "Of Natural History". Many of the members, including Moe!, collaborates with the butoh dancer Shinichi Momo Koga under that company name Inkboat & have performed around Seattle, Mendocino & San Francisco. Moe! is forming another band with bassist George Cremaschi and vocalist Jesse Quattro. They have still have not decided on a name and are currently looking for a guitarist, a trumpet player and a second drummer.
Moreover, he also composes text/graphic scores for a collective ensemble for what he calls MOE!KESTRA!, which employs as many as 50 musicians or more. Moe! has written scores for destroying pianos (Piece No.1: Death of a Piano), sex toys (Piece No.2: Death by Dildo; which once got sponsored by Good Vibrations...seriously) and four other pieces that have been performed between 1997 and 2005 (seven pieces in all; about 40 performances & counting). Fellow employees have included ROVA's Bruce Ackley, George Cremaschi, Michael de la Cuesta, Cheryl Leonard, Matt Ingals, Fred Frith, William Winant, John Shiurba, Bill Horvitz, Tom Yoder, Aaron Bennett, Dan Plonsey, Garth Powell, Peter Valsamis, Kris Force (Amber Asylum), Jonas Muller, Adam Lane, Matthew Sperry, Jonathan Segel (Camper Van Beethoven), Tony Maimone (Pere Ubu, They Might Be Giants), Michael Evans (God Is My Co-Pilot), Sean Meehan, Shelley Burgon, Danny Tunick (Guv'ner), David First, all past and present members of Sleepytime Gorilla Museum among many other musicians. In 1999, he wrote & conducted a piece written for the Seattle ensemble, the Degenerate Art Ensemble, entitled "Piece No.6: And They Swore They All Slept Soundly", which was also performed by the Moe!kestra!. The debut disc of Moe!kestra! was released in June of 2003 of two conducted improvisations entitled "Two Forms of Multitudes: Conducted Improvisations". He's currently planning on releasing more Moe!kestra! material in the near future and hope's to write more in the near future. One piece entitled "Piece No.7: An Inescapable Siren Within Earshot Of Hearing Distance Therein And Other Whereabouts", was written for guitars (played with all low E-strings played with a coiled implement), strings, percussion, u-bolts, wine glasses and sirens. He finished writing a new piece that was performed at the San Francisco International Arts Festival called Piece No.8 for strings, percussion and prepared guitar.
Moe! has still not yet gone through any music theory.

"Born as a percussionist specialized in "found, given and stolen" objects, Moe! Staiano is one of the most idiosyncratic American composers in action nowadays."
Massim Ricci, Touching Extremes

Artist Website