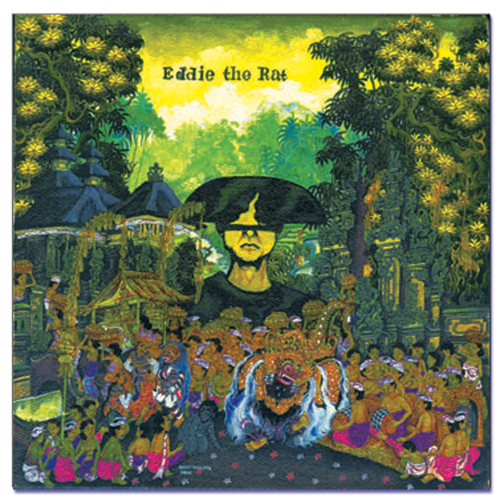 Special Value


Buy Eddie the Rat Insomnia Sound Bible and get Out Behind the 8-ball at an additional $4.00 off

Buy Together Today: $22
Eddie the Rat's seventh release, Out Behind the 8-ball, adds to an extensive list of intricate and richly composed concepts in the Eddie the Rat catalog. Out Behind the 8-ball features a quartet playing all manner of instruments to composer Peter Martin's meticulous compositions. While he plays piano with his hands and drums with his feet, what sounds like an orchestra of woods, percussion, and power tools whirl and crash along in time. The CD contains finely crafted avant-pop songs (like "The Closet People" and the title track) along with more extended and far reaching tracks like "March of the Haydevil" (which takes up the last 18 minutes of the disc).
Eddie the Rat is the pseudonym for composer and multi-instrumentalist Peter Martin and the musical group who execute his compositions. Martin calls his music "head music for your feet." Inspired by everything from Indonesian gamelan, American music styles (Jazz, Blues, rock), and modern orchestral music, Eddie the Rat tries to bridge the gap between ritual, roots, and concert music.



Buy at Bandcamp
Buy at Apple Music
Buy at Amazon MP3

"The secret weapon this time around is vocalist Molly Tascone, whose ethereal voice makes a nice counterpoint to the musical chaos." - The One True Dead Angel

"This is not your typical serene voyage to the East full of postcard quotes, good only for those shops run by converted yuppies where incense suffocates and rainsticks gather dust in a corner. Eddie The Rat are snarling and acrid, kicking serious ass when they want to." - Massimo Ricci, Temporary Fault

Startling Moniker's Top 12 Best Happy Neat-O List of 2008!
"Out Behind the 8-Ball, is tons of Pete Martin fun as expected. I think of Eddie the Rat's Peter Martin as a more unruly modern-day version of Harry Partch." - Dave X, Startling Moniker

"With the band's seventh release, they continue to etch a niche sound that truly does provide a mark of distinction. Think of a modern day John Cage delving into avant-garde, progressive-rock and pop music amid the odd-metered time signatures, thrusting percussion vamps and unlikely instrumentation." - Glenn Astarita, All About Jazz

"...some rock and roll in this avant groove, and the songs here are more songs than pieces, if you know what I mean."
- J. Worley, Aiding & Abetting

"This is very avant-garde stuff, perhaps with some ethnic American influences, and it is not like anything I have heard before." - Sea of Tranquility