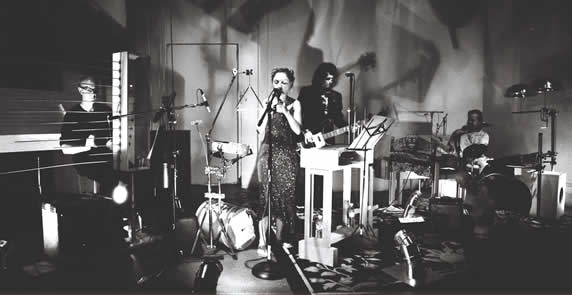 Eddie the Rat is the pseudonym for composer and multi-instrumentalist, Peter
Martin, and the avant-(something) conglomeration of musicians and artists who
execute his compositions. Beginning in 2000 as Martin's one-man electro-acoustic experiment, Eddie the Rat evolved into an ensemble of up to 15 musicians. The current quartet has been performing actively for the last year and a half.

"Minimalist one moment invoking Philip Glass...the next minute....RAGE....not polyrythmic, but polyTEMPO. Truly something I don't think can be described
but only experienced." -Ryan H Turner, Drum Corps Planet

Martin desribes Eddie the Rat music as "head music for your feet": conceptual in inspiration, primal and visceral in execution. Amoeba Records calls it "sexy avant-garde." Inspired by Indonesian gamelan, American & European folk, and modern 12-tone music, Eddie the Rat tries to bridge the gap between ritual, roots, and concert music.

Eddie the Rat is a music group as much as a musical form onto itself as directed by Martin's personal compositional and bandleading style. The ideal is to cultivate each member's artistic personality into a coordinated musical expression, rather than highlight individual capabilities through soloing, etc...What might sound like "free-form"
is carefully composed and meticulously rehersed, with the arrangements being intended to work for any idiom such as a rock band, musique concrete, or orchestra.
It's All Part Of The Ongoing Construct.

Artist Website