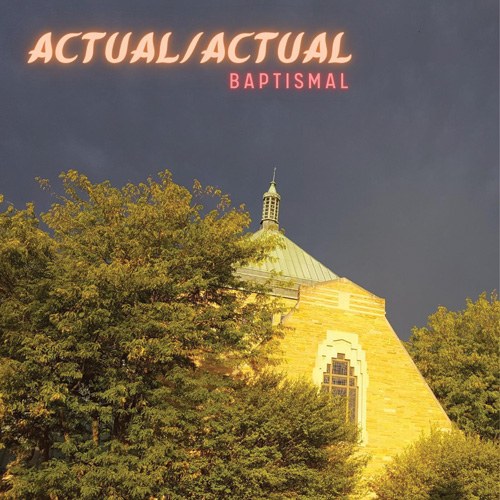 Special Value
Actual/Actual Baptismal and Deciduous / Midwestern Edition Vol. 1 for
an additional $2.00 off
Buy Together Today: $20
The debut album from Actual/Actual showcases improvised music with a blues music orientation at the core while keeping to a broad outlook towards "spontaneous composition". Their wide swath takes in swing, Latin music, fusion, doom rock, reggae, punk, and many other musical elements. It's all "grist for the mill" as they create a new context for these elements where improbable connections are made and things happen when you least expect them to. Romus originally hails from the Upper Peninsula of Michigan and has made it a point to engage and collaborate with musicians from the region. This band represents recent "talent reconnaissance" and is truly a multi-generational affair.

Rent Romus - alto, soprano saxophones
Gerard Cox - drums, piano, wurlitzer
Josh Strange - vibraphone
Troy Kunkler- drums



Buy at Bandcamp
Buy at Apple Music

"Spectral moments surface throughout as a bit of other-worldliness emerging from brassy cacophony. Raucous, delicately haunting, and most definitely coy, the album has a kind of nonchalant majesty to it."
- Elise Mills, White Crate
"Baptismal is the group's debut and presents a band with high energy, lots of creativity, close interplay, subtlety, and plenty of fire"
- Richard Gilman-Opalsky, Activator Magazine

"This is free jazz - you might think, well yeah, 70ies style Milt Jackson - but somehow these chaps keep an edge to things. There is a continuous presence of free improvisation lurking around the corner, as well as a more 'rock' style approach to playing..." RSW, Vital Weekly