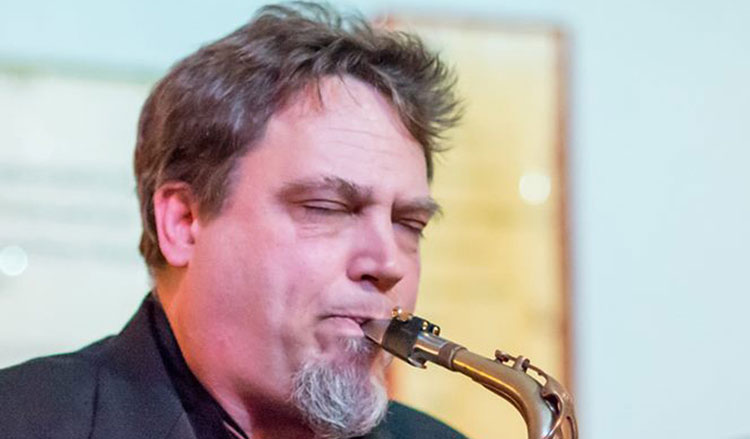 photo by George Thompson
Rent Romus is an Emmy award winning saxophonist/multi-instrumentalist, composer, bandleader, music producer, and community activist. Since 1988, his work on the saxophone has been dubbed "ferocious" by the San Francisco Weekly and "central to the creative music world of the West Coast" by writer Frank Rubolino. He leads the Lords of Outland a free improvisation unit, the Life's Blood Ensemble a composition based contemporary group, and the Otherworld Ensemble a Finnish/American collective exploring new perspectives in heritage and traditional folk. He has recorded over 50 albums exploring a wide variety of musical settings which have included beat poet founder ruth weiss, and creative music pioneers Chico Freeman, John Tchicai, and Vinny Golia, Teppo Hauta-aho, Heikki Koskinen, Thollem McDonas, Stefan Pasborg, Marcos Fernandez, and Ernesto Diaz-Infante to name a few.

He is the founder of Edgetone Records a community driven label with over 30 years of independent music production, and the creator of Outsound Presents, an all-volunteer musician run non-profit music presenting organization since 2000. His main instrument is the alto saxophone doubling on c-melody, soprano, sopranino saxophones, various flutes and small percussion. His interests cross both genre and music notation styles from freeimprovisation to composition and graphic score. In addition to a background in jazz he is well versed in experimental, noise, drone, blues, rock, and traditional folk music forms.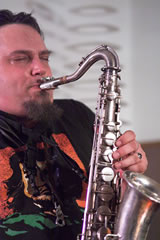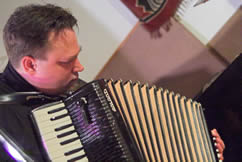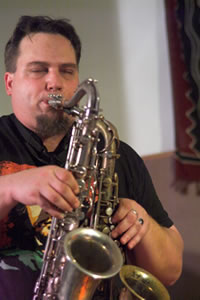 photos by Peter B Kaars
click the photo for press copy

"Romus has a bold sound, unmistakable sincerity and conviction." - Downbeat

"Rent remains a force for me, his restraint as powerful as his melodic attacks." - Thurston Hunger, KFJC 89.7 FM Los Altos, CA

"Romus' sax rekindles that flame egregiously, thematic sketches becoming instant excuses for the instruments to coalesce into a gruelling mass of Pollockian sonic painting that plumps on the brain and self-adjusts until your synapses are completely disjointed."
Massimo Ricci, Touching Extremes
"Rent Romus and his Sax are the rudder, guiding the way....his frenzied summersaults lead the band ever upwards towards the sky."
Tobias Fischer, Tokafi

"Romus has been central to the creative music world of the West Coast for a number of years, and he keeps stretching the boundries of originality with each new release." - Frank Rubolino onefinalnote.com/Cadence
"The center piece of the band is Rent Romus with his fantastic sax work, and like his contemporary Zorn, Romus has a long history in the music scene as well as in the established cultural art world working and collaborating with talented musicans."-Jackalblaster
"...master of avant-garde jazz saxophone" - Pete Pardo, Sea of Tranquilty