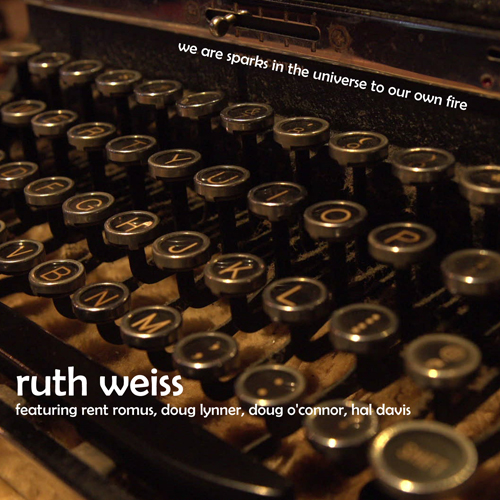 Special Value


Buy ruth weiss - we are sparks in the universe to our own fire and Robert Anbian's I NOT I at an additional $7.00 off


Buy Together Today: $30
ruth weiss
we are sparks in the universe to our own fire
EDT4217

CD $15




Released 2021



I first met ruth* in 2013 at a benefit concert for Arthur Blythe. She was introduced to me by George Russell who knew me from my work with Bill Noertker and Outsound Presents. In a sea of people at the concert her bright aqua green hair could not be denied. Later, I came to understand it was her ongoing tribute to the 1948 anti-war film 'The Boy with the Green Hair'. When I got home from the concert I decided to do some research and found that she was a founder of the beat poetry community. Meeting a founder is rare and being in a position to produce grass roots concerts in San Francisco I thought it would be fascinating to hear her work with electronic synthesis pioneer Doug Lynner. As I extrapolated from her years of innovation, ruth was all for the idea and they performed at the 2014 Outsound New Music Summit in San Francisco. A year later ruth was looking for a sax player for her quartet and called me to perform. In 2018 I produced this recording live in San Francisco at the Musician's Union Hall as part of the SIMM Music Series from Outsound Presents. ruth decided it would be fun and interesting to perform the same set of poems with Doug Lynner and then with her jazz quartet. The title, "we are sparks in the universe to our own fire", is the last line written on her 91st birthday poem which we performed on the day of her induction into the Cinequest Maverick Award in March of 2020. For me the line speaks volumes on who she was and how she lived her life. We will always be grateful for the opportunity to work with her and miss her deeply. -Rent Romus

* ruth spelled her name in all lower case letters in opposition to all authority.

Set 1
ruth weiss
- poetry
doug lynner - serge synthesizer (the mystery serge)
hal davis - wooden log
Set 2
ruth weiss
- poetry
rent romus
- alto, soprano saxophones, flutes
doug o'connor - double bass
hal davis - wooden log
Buy at Bandcamp
Buy at Apple Music
Buy at Amazon MP3
"These poems are more than her legacy; they are her children, the last survivors of her line. Her bloodline ends with an exclamation point, with a career in letters that secured a place in history and received its biggest recognition during her final years, while she was not only alive but also healthy and able. I choose to see it as a happy ending, and this album is a part of it." - Craig Matsumoto, Memory Select

"Absolutely amazing record...her voice has a very jazzy/smoky quality that was very obviously her instrument, and her handle of it is pure art. There will never be another poet quite like ruth weiss. - Mickeyslim, KFJC FM89.7 Los Altos Hills CA
"...a magnificent oral story that gives a bird's-eye view of the history of culture." - Takeshi Goda. Jazz Tokyo
"ruth certainly has a way with words, very descriptive painting vivid pictures with her poetry, elegantly stated and true to her soul."
- Jon Neudorf, Sea of Tranquility