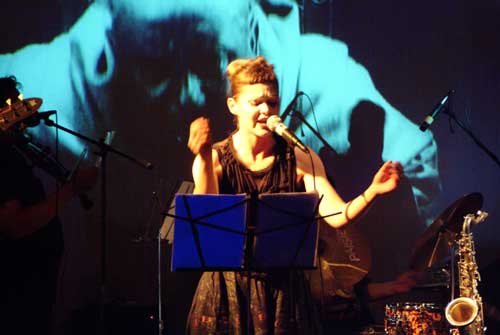 Dina Emerson was born in Santa Barbara, CA in 1966 and lived there until 1985, when she migrated East to attend Bennington College in Vermont. Since age 16, when she first heard the recordings of Meredith Monk, Robert Ashley and other cross-disciplinary artists, Dina has avidly pursued to integrate the separate media into performances that is are at once installation, concert and theatrical event. Originally trained in theater, Dina began her serious study and exploration of voice after graduating from Bennington College in 1988 and moving to Brooklyn. She subsequently became a fixture in the New Music and Interdisciplinary Performance world of New York, joining the Meredith Monk Vocal Ensemble in 1990 and remaining a member until 2003. With Meredith Monk and others, Dina has toured The US, Europe and Asia and performed at the SF Symphony, Lincoln Center, Brooklyn Academy of Music, Theatre de l"Odeon in Paris and many other prestigious venues.
In addition to Meredith Monk, other artists with whom Dina has worked include Tan Dun (2 world premieres), John Kelly, Nam Jun Paik, Ken Butler, David Soldier with Komar & Melamid, and various downtown theater companies including Tiny Mythic Theatre Company, Cucaracha Theatre and The Talking Band.
In 2000, Dina was invited to replace the lead singer during her maternity leave in the acclaimed Cirque du Soleil production, "O," at Bellagio in Las Vegas. This temporary position was extended into a full-time contract when Dina was asked to move to Cirque's other resident Las Vegas show, "Mystere." Dina stayed with Cirque du Soleil until January, 2002 when she moved to Corte Madera, California.
Concurrent with her work with other artists, Dina Emerson has created a body of original pieces that spans from 1992-1999 (in 2000, performing with Cirque du Soleil eclipsed the possibility of creating new works for the time being; research and development has again commenced since moving back to California). Venues at which she was presented include PS 122, HERE, The Knitting Factory, Cucaracha Theatre, The Kitchen, and Thread Waxing Space.
Combining voice, text, electronics, physical theater and specifically chosen materials, these works defy categorization. They could be monologues with extended vocal techniques and songs, or collages of images, sounds and movement, or an installation that is built as a function of the performance. There has been a definite progression from exploring more electronic techniques (digital delay & looping, for example) to ultimately letting those technical aspects fall away in favor of a much more "handmade" emphasis on the voice itself and the materials that make up the performance/installation.