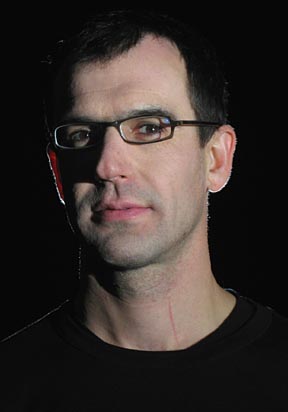 With a history of conservatory training gone awry, oboist and electronic musician Kyle Bruckmann combines the rigorous discipline of a classical foundation with raucous sensibilities more indebted to punk's aftermath in a dizzying variety of artistic endeavors. He has performed throughout the U.S. and Europe as a composer, an interpreter, and an improviser and has appeared on more than 30 albums of various genres.
Long-term affiliations include EKG, an electroacoustic duo with Ernst Karel, and the experimental "rock" monstrosity Lozenge. Bruckmann's quintet Wrack performs original compositions drawing equally from the traditions of contemporary jazz and classical modernism, cultivating an "ability to combine turned-up flame with clear-headed attention to texture and space" (Jason Bivins, Dusted Magazine). As a member of the Bay Area new music collective sfSound and of Gene Coleman's Chicago-based Ensemble Noamnesia, he has performed works by composers including Andriessen, Berio, Braxton, Cage, Cardew, Carter, Crumb, Feldman, Goldstein, Ives, Penderecki, Satie, Sciarrino, Stockhausen, Tenney, Varese, Webern, Xenakis, and Yoshihide.
Upon moving to San Francisco in 2003, he joined forces with sfSound and with Quinteto Latino, a wind quintet selected for the San Francisco Symphony's 2005-2006 and 2007-2008 Adventures in Music educational program. He has since performed with the SFSO and the regional symphony orchestras of Berkeley, Santa Rosa, Marin, Napa Valley, Monterey, Santa Cruz, and San Jose and accompanied productions by Golden Gate Opera, Pocket Opera, and Oakland Opera Theater. He has meanwhile become firmly enmeshed in the vibrant local improvised music community, with frequent co-conspirators including Liz Albee, Ernesto Diaz-Infante, Matt Ingalls, John Ingle, Christopher Jones, Aurora Josephson, Jacob Lindsay, Tim Perkis, Dan Plonsey, Jon Raskin, and Toyoji Tomita. Current Bay Area working groups include Shudder (with Lance Grabmiller and Phillip Greenlief), Ghost in the House (with David Michalak, Tom Nunn, and Karen Stackpole) and Pink Mountain (an outrock band with Sam Coomes, Gino Robair, Scott Rosenberg, and John Shiurba).
From 1996 until his westward relocation, he was a fixture in multiple sectors of Chicago's thriving experimental music scene. While teaching and free-lancing as an orchestral musician, he collaborated regularly with many of the city's most creative improvisers and sound artists, including Jason Ajemian, Jim Baker, Jeb Bishop, Olivia Block, Tim Daisy, Guillermo Gregorio, Fred Lonberg-Holm, Robbie Hunsinger, Bob Marsh, Jen Clare Paulson, Weasel Walter, and Michael Zerang. Beyond Lozenge, his underground rock misadventures also led to a short stint in the volatile My Name is Rar-Rar (touring in support of The Locust) and to entanglements with neo-no-wave stalwarts Cheer-Accident and Bobby Conn.
In the course of his travels, Bruckmann has shared the stage repeatedly with a cast of improvisers including Allesandro Bosetti, Tom Carter, Audrey Chen, Christopher Cogburn, David Dove, Jeremy Drake, Harris Eisenstadt, Bryan Eubanks, James Falzone, Chris Forsyth, Jeff Gburek, Gunda Gottschalk, Anton Hatwich, Boris Hauf, Chris Heenan, Bill Horvitz, Guiseppe Ielasi, James Ilgenfritz, Greg Kelley, Larry Marotta, Tatsuya Nakatani, Kurt Newman, Polwechsel, Bhob Rainey, Vic Rawlings, Frank Rosaly, David Rothbaum, Steve Rush, Sara Schoenbeck, Jason Stein, and Jack Wright.


Artist Website