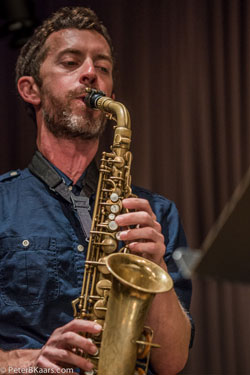 photo by Peter B Kaars
Aram Shelton grew up in southeast Florida and began studying & learning how to play music around the age of ten with his first instrument, the saxophone. He moved to Chicago in 1999, attracted to the creative music scene. There he continued to study music and expanded his range of instruments by learning clarinet & bass clarinet, studying trumpet, and eventually using computers to add other textures and sonic possibilities unable to be created by acoustic instruments.
In Chicago, Shelton was active playing music in many groups including his own Arrive (482 Music), Grey Ghost (482 Music), Jason Adasiewciz's Rolldown and Keefe Jackson's Fast Citizens (Delmark). He created music which combined electronics and acoustics with musicians such as Ernst Karel, members of TV Pow and Koutaro Fukui (ondo music). Along the way he has performed with musicians such as Jeff Parker, Ken Vandermark, Steve Bernstein, Jeb Bishop, Josh Abrams, Guillermo Gregorio, Chris Jonas, Fred Lonberg-holm, Steve Hess, and Rob Mazurek.
In the fall of 2005 he moved to the Bay Area to study at Mills College. His focus continues to shift towards improvisation based music that more naturally combines electronics and acoustics in a live setting. Out west he's had the opportunity to play with the likes of Weasel Walter, Fred Frith, Jon Raskin, and Damon Smith. Other recordings of his music are available through 482 Music and Locust Music.

Artist Website