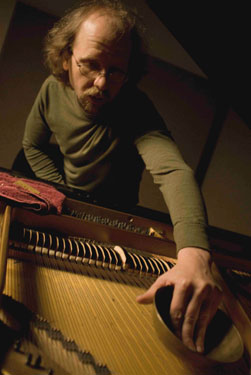 "This guy deserves your attention. He's got power, emotional heft, but also an abundance of musical intelligence and subtlety."
- Ken Waxman, Cadence

Scott R. Looney has been interested in the creation and performance of compelling sounds across a broad spectrum of contemporary, improvised, and experimental music. Starting out young as a solo improviser playing by ear, he eventually widened the scope of his interests to jazz and the many points beyond in his studies of electronic and modern classical music. He has studied composition and improvisation with Roscoe Mitchell, Wadada Leo Smith, Morton Subotnick, and Frederic Rzewski, obtaining his MFA in Composition from California Institute of the Arts.
After graduating, moving to New York, and finally to the San Francisco Bay area, he became more interested in expanding the timbre possibilities of the piano, and using pianists such as Denman Maroney as a starting point, has forged a signature style using the inside and outside of the piano, plucking strings, using metal implements and other quick preparations, in combination to playing the piano normally. He has also developed a flexible, expressive voice with electronics using a computer setup which is as effective as his many piano textures are.
Now living in Berkeley and Oakland, Scott has recorded and/or performed with a growing list of world class improvisers, among them being Oliver Lake, Frank Gratkowski, Wolfgang Fuchs, Jon Raskin (of the ROVA Saxophone Quartet), Joelle Leandre, Henry Kaiser, Gianni Gebbia, Gino Robair, Joe Morris, Marco Eneidi, Jeb Bishop, and Paul Smoker, to name a few. He has played in numerous west coast festivals such as the Olympia Experimental Festival, Big Sur Experimental Music Fest, Line Space Line Festival in LA, and the San Francisco Electronic Music Festival. He recently toured Israel and Germany w/ saxophonist Ariel Shibolet and bassist Damon Smith, and is now collaborating with the Savage Jazz Dance company as part of the Atemu Aton Project.

Artist Website