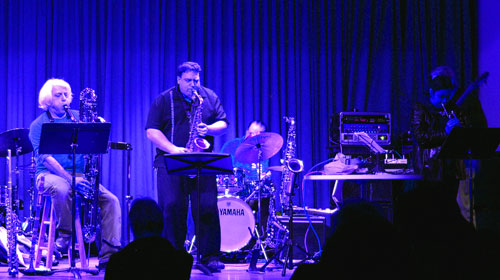 photo by Nick Turner
Saxophonist, composer Rent Romus created the Lords of Outland in 1994 a collective of like-minded musicians focusing on exploring improvisation, melody, noise, and sound art while acknowledging their jazz, rock, and blues roots. The group has developed original music ranging in a series of recordings inspired by abstract socio-political themes as well as authors Frank Herbert, H.P. Lovecraft, Phil K. Dick.
The group currently features CJ Borosque no-input pedals and trumpet, Philip Everett drums, percussion and electronics, and Ray Schaeffer electric basses, lead by Rent Romus on alto, soprano, C-melody saxophones, voice, and electronics.
Other Lords of Outland members include James Zitro, Kash Killion, Jason Olain, Vytas Nagisetty, Andrew Borger, Bill Noertker, John Tchicai, David Mihaly, Toyoji Tomita, Joel Harrison, Tom Nunn, Doug Carroll, Andre Custodio, Jesse Quattro, Jonas Muller, Jim Ryan, Darren Johnston, Damon Smith, and Vinny Golia.

Listen to: Throne of Sand from Edge of Dark

Aces for Albert

Until They Open Their Eyes Godzilla Sleeps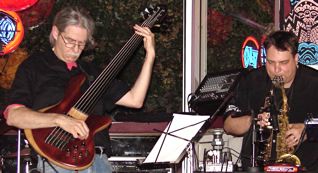 Throughout the the groups rich history it's core roster has changed numerous times featuring guests Vinny Golia, John Tchicai, James Zitro, Kash Killion, and many others. The group released two recordings in the ninties "You'll Never Be the Same" in 1995 and, "Adapt…or Die!" featuring John Tchicai in 1997.
In 2000, Romus produced a dedication to Albert Ayler, "Avatar in the Field" and in 2002 along side his partner and wife CJ Borosque, the group released music to her book of poetry entitled The Metal Quan Yin. Continuing to perform and record live shows up and down the West Coast through the latter half of the decade, Romus discovered the group had rattled into a realm known to some as "Free Jazz Metal" (or some variation thereof). This back alley sub-genre metamorphosed from the seeds of free jazz mixed with the fires of a new generation who were influenced by 60's and 70's rock as well as punk, metal and noise. This incubation and virulent growth of the sub-genre spurred The Lords' releases "Culture of Pain" in 2005, "You can sleep when you're dead!" in 2007, and "The Pit " in 2009. Also in 2009 Romus released "XV" to celebrate their a fifteen year anniversary, a silver box set of recordings many of which had never been released from 1994-2008 and a full length project recorded in 2009. In 2010 they released "Edge of Dark" featuring Vinny Golia a set of music inspired by the writings of Frank Herbert, Phil K. Dick, and H.P. Lovecraft. In 2012 they released The Couldknitter Suite and a joint release on Ninewinds/Edgetone entitled Thee Unhip.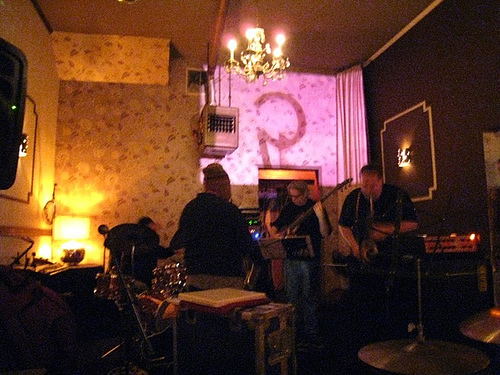 "Purposeful stuff all the way, played with large doses of powerfully throbbing heart; evident fearlessness in attempting a collective appreciation of the thousands of unexplored facets through which Lady Melody seduces receptive musicians."
- Massimo Ricci Touching Extremes

"Safely, if not sanely put, Lords of Outland imagines Jaco Pastorius playing armor outfitted basketball with a band of crazed bassists and saxophonists. The rhythms run amok, the melodies are anything but friendly, and nausea and sickness is sure to follow."
- Ken Micallef