U.I.R.C - CATALOG S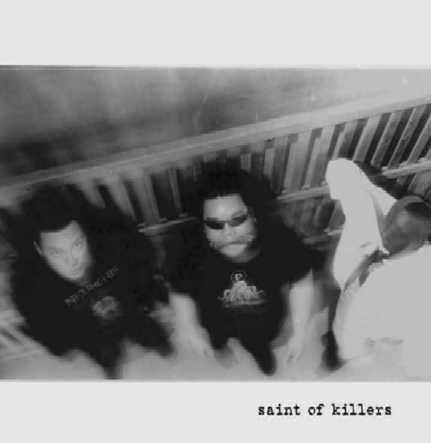 SAINT OF KILLERS
S/T
Edgetone Records EDT 4013 -Alt Metal Rock
format CD

CD $13


"holy hell, it's truly amazing…the live closer of the record, shreds completely through 10 minutes of paralyzing improv/metal mayhem, using its stops and quiet spaces to as stunning effect as the outburts/freakouts and pure sheets of screech laid down by Jesse."
WFMU – 91.1 FM , NJ
---
Santo Subito
"Xavier"
Accretions ALP039 - Exp/Elec
format CD

CD $12

All music composed and performed by Milton Cross and Steven Dye. The idea for Xavier was simple - acoustic improvisational sounds by any and all means necessary. The result is a careful balance of control and chaos, of raw sound and delicate nuance. Each CD comes packaged in a limited edition hand-painted cover. The foundation of Santo Subito consists of Steven Dye's bass clarinet and Milton Cross' violin, and it is upon this foundation that they have built a commanding framework of sounds both traditional and non-traditional, encompassing homemade horns, drones, piano, electronics and percussion. While firmly rooted in neo-classical influences, the band relies heavily on the two members' extensive experience with the use of multiphonics and on their unpredictable manipulations of vibrating air and string. Part minimalist, part wall of sound, part pre-dawn dream, Santo Subito assembles a unique sonic palate from which they shape their powerful performances, which can only be classified as "unclassifiable".
---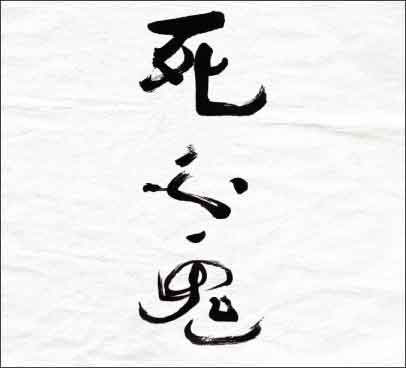 Say Bok Gwai
S/T
EDT 4026/Monkeyking Records -Alt Punk Rock
format CD

CD $10


Canto-Core:
A NEW CHINESE AMERICAN EXPERIENCE
Say Bok Gwai is a Chinese American band that pushes the envelope of musical, social, and political extremes. Say Bok Gwai shows a new face of Chinese American
music and is not for the timid or easily offended.
---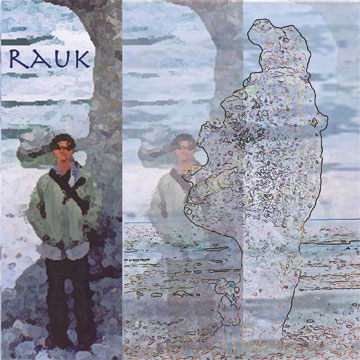 Jonathan Segel
Rauk
Magentic Motorworks MAG23.3 - Exp/Elec
format CDr

CD $10

Created at the Visby International Centre for Composers on Gotland, Sweden in 2003 by Jonathan Segel.
---

Jonathan Segel
Summerleaf
Magnetic Motorworks MAG25.9- Exp/Elec
format CD

CD $10

Lovely electronic songs from a summer by a lake... Jonathan Segel, electronics
---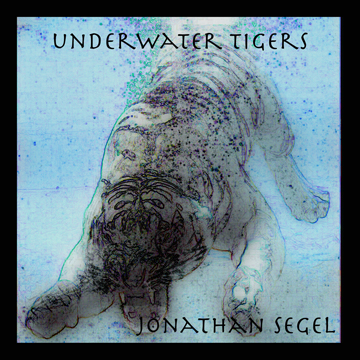 Jonathan Segel
Underwater Tigers
Magnetic Motorworks MAG23.9- Exp/Elec
format CD

CD $10

Electro-acoustic journey under consciousness. Jonathan Segel, electronics; Kiku Day, shakuhachi; Dina Emerson, voice, wine glasses; Wu Fei, gu zheng
---

Jonathan Segel
Non-Linear Accelerator
Magnetic Motorworks, MAG23 - Exp/Elec
format CD

CD $15


An all-Electronic music CD, this 80-minute collection combines music composed for dance companies, theatre presentations and just plain-old weirdness. Lots of samples and synthesis, field recordings and feeling.
---

Jonathan Segel
Edgy Not Antsy
Magentic Motorworks MAG22 - Alt Rock
format CD

CD $15

Jonathan Segel returns with a new CD full of pop oddities, kinda like Eno's pop records of the mid-70s but a whole lot more now. All sorts of upbeat and downbeat tunes. Smells like summer hits.
---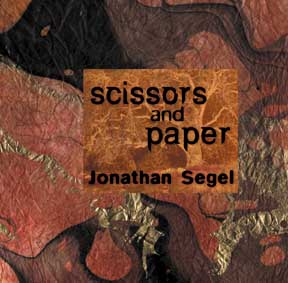 Jonathan Segel
Scissors and Paper
Magnetic Motorworks, MAG13 - Alt Rock
format CD

CD $12


Jonathan Segel is the Puppet Figurehead of Magnetic, a company run by unseen forces. Born September 3rd 1963, grew up in Davis, California (with a couple years' side trip to Tucson, AZ. ), went to college at UCSC in Santa Cruz, CA, where he hooked up with Camper Van Beethoven, moved up to San Francisco in 1989, moved to Los Angeles in 1997 to work for Dane Davis at Danetracks, a film sound post production facility, then back to Oakland in 2001 gettin' a graduate degree in Music Composition at Mills College.
---

Jonathan Segel/Hieronymus Firebrain
Here
Magnetic Motorworks, MAG02 - Alt Rock
format CD

CD $10


"Hieronymus Firebrain holds the mirror up to nature."
---

Jonathan Segel/Hieronymus Firebrain
There
Magnetic Motorworks, MAG01 - Alt Rock
format CD

CD $10


Jonathan Segel, Fredericko Ordini, Theodore Ellison, Russ Blackmar, Chris Davis, Dave Costanz, Katl B. Traler
---

Todd Sickafoose
Dogs Outside
Evander Music EM 010- Jazz
format CD

CD $12

8 Original Compositions for quintet by bassist Todd Sickafoose in a CD that was named "best new release of 2000" by the Los Angeles Times. Featuring Sickafoose: bass, Peter Epstein: saxophones, Alan Ferber: trombone, Jusin Morell: guitar, & Mark Ferber: drums
---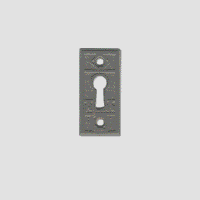 Skeleton Key Orchestra
S/T
Circumvention Music, CCV3039 - Exp/Jazz Comp
format CD

2 CD SET $15

Skeleton Key Orchestra draws upon a wide cross section of Southern California's improvised and creative music world. Nathan Hubbard's compositions seamlessly blur the distinction between improvisation and composition and highlight the strengths of the 35+ members of the orchestra. In the tradition of jazz and large ensembles, Hubbard's music is influenced by the free jazz ensembles of Ornette Coleman, Mike Mantler, John Coltrane, Albert Ayler, Cecil Taylor and William Parker, the european ensembles led by Barry Guy, Alexander von Schlippenbach, Tony Oxley, Evan Parker, Wolfgang Fuchs, Peter Brotzmann and Pierre Favre as well as the West Coast ensembles led by Vinny Golia, Glenn Spearmen, Jeff Kaiser, Marco Eneidi, Scott Rosenberg, the NOW orchestra and the sorely missed New Art Orchestra. The music traverses an array of territories, from complex grooves to surreal electronic landscapes, free-wheeling high-energy collective improvisation to meditative woodwind fugues, improvised street marches to minimalistic repetition.
---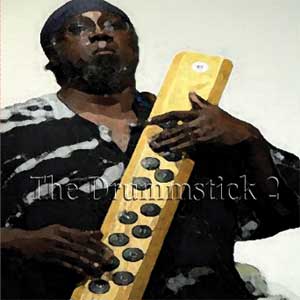 E. Doctor Smith
The Drummstick 2
EDT4053 - Jazz Comp
format CD

CD $13

E. Doctor Smith's original invention, the Drummstick, has a vertical design that enhances his ability to digitally tap, slap, flam, and roll. This CD showcases the versatility of his instrument and presents truly inspired left-the-box-way-behind music that smacks you up one side of your head while caressing you down the other.
For the Drummstick's 10th anniversary, Doc reassembled many of the musicians from the Drummstick's debut release in 2000, as well as some great new ones. Rejoining Doc for Drummstick 2 are bassist and co-producer Celia DuBose; Jack Wright with his array of electric guitars and loops; Neil Mezebish on acoustic and MIDI saxes; trumpeter and Feat of Clay co-founder the "Mad Swede," aka Eric Dahlman; and his long-time collaborator and K2 co-founder Seth "Elgie" Elgart on assorted iBooks, vintage synthesizers, keyboards and samples.
Also joining Doc is bassist Mike Shea, who recorded with Doc's latest ensemble, Robert Anbian and UFQ: The Unidentified Flying Quartet, featuring poet Robert Anbian, saxophonist Charles Unger, and pianist Sam Peoples. "I call the post-fusion, world beat jazz these guys play 'acid-bop'..." -Robert Anbian, Poet
---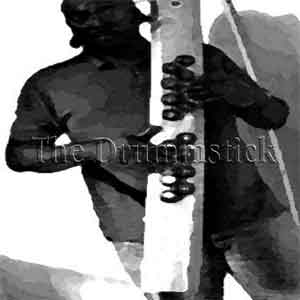 E. Doctor Smith
The Drummstick
EDT4046 - Jazz Comp
format CD

CD $13

Having played for 20 years in jazz, fusion, pop, and folk bands as a serious student of drums, E. Doctor Smith developed a love of digital drumming that compelled him to design and build an instrument that would give him maximum flexibility as a writer, drummer, and performer. The Drummstick, a percussion controller with 16 finger-pads mounted on a 2 x 6 piece of wood, is worn like a guitar and used exclusively to achieve Doc's primary goal in life— to make spirits dance.
"From the banjo-meets-Bruford tribal groove of 'Futureboy' to the atmospheric sonic landscapes of "Girl of a Thousand Days," E. Doctor Smith treads a musical road less traveled. His intrepid ensemble's acid jazz explorations wander into every world musical nook and cranny, making this collection a trip well worth taking." -Stephen Bray, Producer
---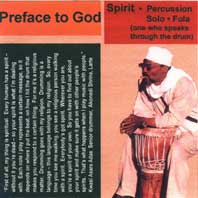 SPIRIT
Preface to God
Edgetone Records EDT 4010 - Exp
format CDr

CDr $10


Spirit speaks through the drum. Here he plays gongs, bells, rain stick, singing bowl, donno (West African talking drum), sheet metal, rachet, cymbals, & rototom, as well as his modified trap kit. "First of all, my thing is spiritual. Every human has a spirit – without it you're dead – so your spirit is what I'm dealing with. Each note I play represents a certain message, so it depends on where I put the beat, on how I hit the drum that makes you respond to a certain thing. For me it's a religious matter. Drumming goes with my religion. Drumming is a language – this language belongs to my religion. So, every time you see me walking, you see a religious person walking with a spirit. Everybody's got spirit. Wherever you are, you're a spirit of your own. So you have to find out about your spirit and make sure it gets on with other people's spirits. That's what happens when I play music with people." -Kwasi Asare Adae Senior drummer, Akonedi Shrine, Larte
---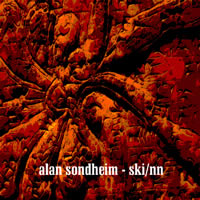 Alan Sondheim
Ski/nn
Fire Museum Records FM07- World
format CD

CD $10

A recording of solo acoustic guitar and alpine zither songs, this release will delight those familiar with his early Riverboat (reissued as FM 04) and ESP Disc recordings as well as the audience for experimental solo guitar - while creating an audience for experimental solo alpine zither! On this release, Alan performs on the 1927 martin tenor guitar, 19th century parlor guitar, 1920s prime alpine zither and 1860s elegie alpine zither.
Dan Wharburton of Paris Transatlantic said of the reissue of The Songs:
"an endearingly ramshackle melting pot of free jazz, blues and folk (if Eugene Chadbourne later described his work as "free improvised country & western bebop" then this is "free improvised Hawaiian flamenco gospel blues music theatre).. its influence resonates (indirectly, one imagines, unless there are more copies of the original vinyl in circulation than I imagine) in the free folk of today's New Weird America scene."
Now listeners have the opportunity to hear for themselves the present day song form manifestations of this overlooked creative master.
---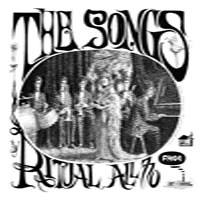 Alan Sondheim & Ritual All 770
The Songs
Fire Museum Records FM04- Exp
format CD

CD $10

First ever reissue of "The Songs", the debut recording by Alan Sondheim & Ritual All 770, originally released on Riverboat Records (later recordings appeared on ESP Disk). Recorded in March 1967 and included on the legendary Nurse With Wound list of experimental recordings, on this album Alan Sondheim played Electric Guitar, Violin, Flute, Suling, Xylophone, Alto Saxophone, Classical Guitar, Clarinet, Shenai, Bass Recorder, Mandolin, So-na, Hawaiian Guitar, Koto, Sopranino Recorder, Chimta, Cor Anglais, Sitar and Bansari.
Joined by Barry Sugarman (Tabla, Dholak & Naquerra), Chris Mattheson (Bass), Robert Poholek (Trumpet & Cornet), Ruth Ann Hutchinson (Vocals), June Fellows (Vocals) and J.Z. (Jazz Drums); Ritual All 770 were a group of improvisors living in Providence, Rhode Island. (Perhaps they could be considered the sonic forebearers of the Fort Thunder scene...) Rejecting the notion that avant garde music was solely the realm of isolated academia, they delved fearlessly and joyously into their music, creating a work that sounds fresh nearly 40 years later.
---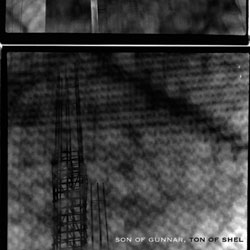 Son of Gunnar Ton of Shel
Aram Shelton & Steini Gunnarsson
Edgetone Records EDT4055- Exp
format CD

CD $12

Son of Gunnar, Ton of Shel is the duo of Aram Shelton and Steini Gunnarson. Their music, which is largely improvised, is held together by a shared sense of commitment to long forms and instinctive timing. Using prepared guitar, wind instruments and live sample-based processing via PD and MSP, they create thick multilayered textural music that is guided by their expressive melodicism.
Aram Shelton – saxophone, bass clarinet, trumpet, electronics; Steini Gunnarson - electronics, prepared guitar
---

J Steinkoler Quartet
The Road Home
Evander Music EM 015- Jazz
format CD

CD $12

"A superb new CD....A very swinging drummer who's mastered the art of coordinated independence."
- Lee Hildebrand, East Bay Express
"Every track brings a surprise and remains fresh after repeated listens. "Something for everyone" is a promise rarely kept and usually suggests mediocrity. Not so with The Road Home"
- Jim Nelson, allaboutjazz.com
At times swinging, funky, or moody and pensive, the quartet navigates a wide range of textures and feels through original compositions and eclectic arrangements.
---