U.I.R.C - NEW ARRIVALS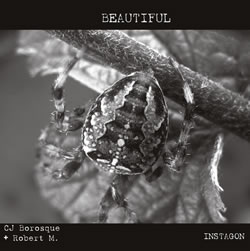 CJ Borosque + Robert M. / INSTAGON
beautiful
Edgetone Records EDT4070- Exp/Noise
format CD

CD $12

Throughout the career of CJ Borosque she has offered up her noise-ventures as singular commentary of psychological states of being that come from the intersection of her consciousness with society and the tensions that arise from that conflict. This album in neither nihilistic nor dystopian, but is instead a celebration of the vitality of the animal world and the veracity of nature. These tracks represent the wanderings of a mad mind that is illuminated by understanding on the brink of twilight. With this album CJ embraces her fear of madness and her fear of death and brings the beauty of both within the reach of the listening observer. This album is about the reconciliation of the human mind with the powerful and dark forces of the unconscious, which rises up in rebellion and stuns those who would deny the power of its presence. This is an album of great depth that belongs in the mind of any lover of truly raw vital energy that pours forth from both the belly of the beast…
---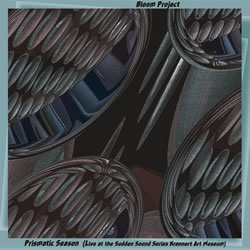 Bloom Project
Prismatic Season
Edgetone Records EDT4068-AV Jazz
format CD

CD $12

In October of 2006 the Bloom Project performed at the Sudden Sound Series presented by the Krannert Art Museum in Champaign/Urbana at the University of Illinois while on their first tour through the heartland of the United States.
The live CD recording features the group's signature wide ranging free group improvisations as well as some of the textual and graphical scores from their first CD 'Bloom'.
The album also features the debut sound recording of instrument inventor Steven Baker's challis drone as a closing track recorded in Pacifica California in 2007.
Thollem Mcdonas - piano; Rent Romus - alto and soprano saxophone, flute; Jon Brumit - drums, small objects; Steven Baker - challis drone
---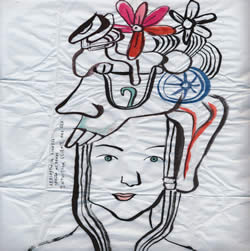 Thollem Mcdonas & Arrington de Dionyso
IntuitionScienceAndSex
Edgetone Records EDT4067- Av Jazz
format CD

CD $12

IntuitionScienceAndSex is a free trio album meditation on one mode with two musicians and drone machines. On September 11th, 2007 Arrington deDionyso (Bass Clarinet) and Thollem McDonas (Rickety Old Beat-Up Piano) met in an industrial area of Portland with a simple question and complicated answers.
Simplicity and complexity in their respective perfections, each idea developed over long spans of time. The result is a very different kind of album for both of these two prolific musicians.
Thollem McDonas - beatup piano; Arrington de Dionyso - bass clarinet
---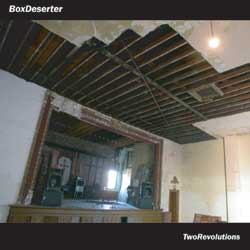 Thollem Mcdonas
BoxDeserter - TwoRevolutions
Edgetone Records EDT4066- Av Jazz
format CD

CD $12

Recorded live in Detroit at the Bohemian National Home, the performance captured a semi-structured improvisation of seven musical participants and a short interwoven recitation about Portuguese colonization of Africa and the eventual uprising centuries later. The lineup came together spontaneously and results in many combinations of timbre, seamless transitions, abundant ideas, and virtuosic interaction. This is a sonic story of violence, oppression, and rebellion. There's a plethora of characters that rattle in and out, drawing inspiration from Igor Stravinsky, Charles Mingus and Pauline Oliveros meet. This is one of several albums that will be released from Thollem's 'FourKneesOfTheTurtleTour' this past fall; a 15 week 65 concert solo journey around the continental U.S.
Brad Duncan - Lecture; Hasan Abdur-Razzaq - Reeds; Michael Carey - Reeds; Marko Novachcoff - Reeds
Joel Peterson - Double Bass; Kurt Prisbe - Drums; Steven Baker - Laotian Mouth Organ
Thollem McDonas - Piano, Conduction
---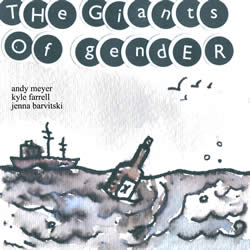 (the) giants of gender
Edgetone Records EDT4065- Av Jazz/Classical
format CD

CD $13




A violent rejection of certain traditions has become an integral element of the trio's music. They cross the border of genre and style within the context of combining composition and non-idiomatic improvisation woven throughout this debut project.
Andy Meyer - reeds; Kyle Farrell - vibraphone, percussion; Jenna Barvitski - violin, viola
---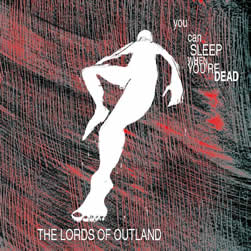 Rent Romus' Lords of Outland
You can sleep when you're dead!
Edgetone Records EDT4064- Av Jazz
format CD

CD $12

The Lords of Outland present their latest black metal deth jazz sequel to Culture of Pain.
In this day, this dawn, when privacy rapidly begins to dwindle…where the difference between inside and outside of one's head or one's house or one's inbox are growing more blurred….we find ourselves in new territory, a no man's land where everyone has fifteen hours of fame, whether they know it or not. There is no choice anymore in what is open to the electronic voyeur. The eyes of the world are upon us and we are all stripped naked on the internet, over the phone, in our email and in our very thoughts. Nothing is hidden from the watchful eyes of the 'gods'. We are on display for their amusement.
However, as the watcher watches so too do we watch him. So too do we indulge in voyeuristic fashion, in the analysis of his behavior. He is the wolf to our sheep, but we are the hunter to his wolf, and as the spiral turns so to the watcher and the watched become one in a dance, the pull eternal, between fascism and freedom.
Rent Romus - alto, soprano, and C-melody saxophones, voice, accordion
CJ Borosque - fx pedals; Ray Scheaffer - 6-string electric bass; Philip Everett - drums, autoharp, electronics
---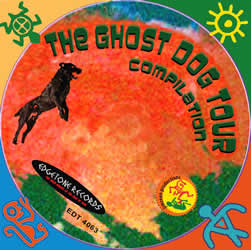 Jim Ryan
The Ghost Dog Tour Compliation
Edgetone Records EDT4063- Av Jazz
format CD

CD $12

A trip to the underground of cutting-edge music, the Ghost Dog Tour features eleven carefully honed works from over twelve hours of live recordings made during May and June 2007 in six U.S. cities: St. Paul, Minneapolis, Chicago, Urbana IL, Columbus OH, and New York. Jim Ryan traveled by bus, hooking up with advanced players (over two dozen), sometimes gathered under his Forward Energy banner, and sometimes as guest performer with local groups. This 73+ minute CD exemplifies the vitality of the will to musical creation that remains hidden beneath the slick commercial flim-flam that is pushed down the throat of the average music buying public. - Saftig von Heimlischbaden
Jim Ryan - alto & tenor saxophones, flute, spoken word - in order of appearance...
Dan Godston - trumpet, percussion; Joel Wanek - doublebass; Douglas R. Ewart - digeridoo, percussion
Mankwe Ndosi - voice; J. Otis Powell - words; Steve Hirsh - drums; Jerome Bryerton - drums
Jason Finkleman - percussion; Jay Eychaner - sythesizer; Tom Paynter - keyboard, flute
Gerard Cox - fender hodes; Hasan Rrazzaq - alto sax; Owen Kelly - guitar
Dude from Youngstown - alto sax; Ryan Jewel - drums; Bruce Eisenbeil - acoustic guitar; Lisle Ellis - bass
Dave Sewelson - baritone sax; Dee Pop - drums; Dave Hofstra - doublebass
Blaise Siwula - tenor/alto sax; Robyn Siwula - violin; Marcus Cummins - soprano sax
Chris Welcome - guitar; Jeffrey Shurdut - piano ; Tom Zlabinger - doublebass ; Brian Osborne - drums
---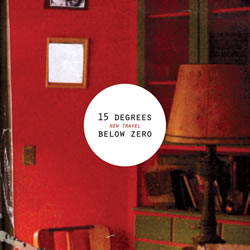 15 Degrees Below Zero
New Travel
Edgetone Records EDT4062- Exp/Elec
format CD

CD $13

15 Degrees Below Zero's CD "New Travel" builds upon the process oriented soundscapes of previous releases to create new refined, compositional narratives that emerge between the planes of discord and melody. The eleven tracks explore transitory spaces of cinematic like sound interiors, digital and analog atmospheres accompanied by guitar, piano, and sampled melodies -- clipped, recontextualized and re-presented.
Daniel Blomquist - laptop, samplers, keyboards, effects, mixing, processing
Michael Addison Mersereau - guitar, keyboards, vocals, harmonica, effects, mixing, processing, etc.
Mark Wilson - pedals, contact mics, vocals, keyboards, laptop, samplers, other effects, mixing, processing, etc.
---

Jonathan Segel
Summerleaf
Magnetic Motorworks MAG25.9- Exp/Elec
format CDr

CD $10

Lovely electronic songs from a summer by a lake... Jonathan Segel, electronics
---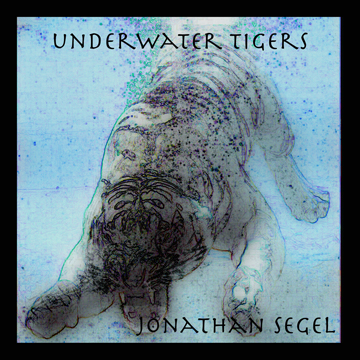 Jonathan Segel
Underwater Tigers
Magnetic Motorworks MAG23.9- Exp/Elec
format CDr

CD $10

Electro-acoustic journey under consciousness. Jonathan Segel, electronics; Kiku Day, shakuhachi; Dina Emerson, voice, wine glasses; Wu Fei, gu zheng
---