U.I.R.C - CATALOG M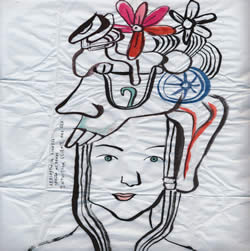 Thollem Mcdonas & Arrington de Dionyso
IntuitionScienceAndSex
Edgetone Records EDT4067- Av Jazz
format CD

CD $12

IntuitionScienceAndSex is a free trio album meditation on one mode with two musicians and drone machines. On September 11th, 2007 Arrington deDionyso (Bass Clarinet) and Thollem McDonas (Rickety Old Beat-Up Piano) met in an industrial area of Portland with a simple question and complicated answers.
Simplicity and complexity in their respective perfections, each idea developed over long spans of time. The result is a very different kind of album for both of these two prolific musicians.
Thollem McDonas - beatup piano; Arrington de Dionyso - bass clarinet
---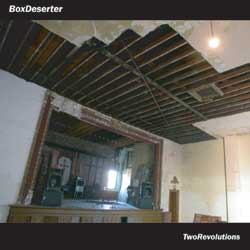 Thollem Mcdonas
BoxDeserter - TwoRevolutions
Edgetone Records EDT4066- Av Jazz
format CD

CD $12

Recorded live in Detroit at the Bohemian National Home, the performance captured a semi-structured improvisation of seven musical participants and a short interwoven recitation about Portuguese colonization of Africa and the eventual uprising centuries later. The lineup came together spontaneously and results in many combinations of timbre, seamless transitions, abundant ideas, and virtuosic interaction. This is a sonic story of violence, oppression, and rebellion. There's a plethora of characters that rattle in and out, drawing inspiration from Igor Stravinsky, Charles Mingus and Pauline Oliveros meet. This is one of several albums that will be released from Thollem's 'FourKneesOfTheTurtleTour' this past fall; a 15 week 65 concert solo journey around the continental U.S.
Brad Duncan - Lecture; Hasan Abdur-Razzaq - Reeds; Michael Carey - Reeds; Marko Novachcoff - Reeds
Joel Peterson - Double Bass; Kurt Prisbe - Drums; Steven Baker - Laotian Mouth Organ
Thollem McDonas - Piano, Conduction
---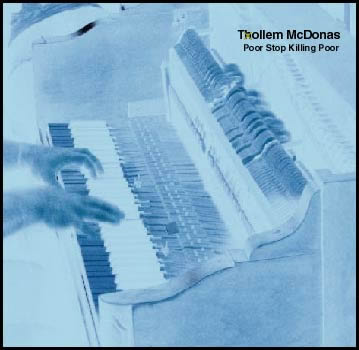 Thollem Mcdonas
poor stop killing poor
Edgetone Records EDT 4045 - Av Jazz
format CDr

CD $12

"This live album delivers more pearls of wisdom by that magnificent lone wolf specimen named Thollem Mcdonas. This man's ardent playing seems to be modeled after centuries of musical knowledge; helped by the peculiar resonance of Detroit's Bohemian National Home, Thollem wanders helplessly in search of lost recollections, which he finally finds only to immediately neglect them to turn his attention towards the end of another rainbow." -Massimo Ricci
---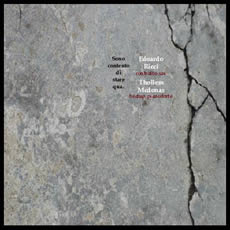 Edoardo Ricci & Thollem Mcdonas
SONOCONTENTODISTAREQUA
Edgetone Records EDT 4037 - Exp
format CD

CD $13
OUT OF PRINT

This album was recorded on the 16th of December, 2005 in an old cold stone house in the tuscan hills outside of Florence. It was a meeting of a couple of hours between Edoardo Ricci and Thollem Mcdonas. Edoardo is a highly regarded long time improvisor in Italy who has up to now not been fully introduced in the states. In this great old cold house was a great old beatup rickety wild intoned piano. Thollem loves wild pianos because with the encouragement of natural forces they have rebelled against the expectations of western human ears.
---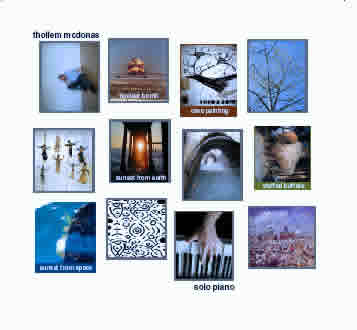 Thollem Mcdonas
Solo Piano
Pax Recordings PR90279 - Exp
format CD

CD $10

This album is a long series of short compositions/improvisations for solo piano, recorded in two hours on march 18th, 2005. They are a collection of Thollem Mcdonas' ideas from the last five years, some that were either previously unpublished, others re-realized. They are a result of his interaction with the world and the piano, some are simple, others complex, in thollem's own words "they represent a wide variety of experiences life has had with me. They are not meant for anyone, but not no one either, this is what i mean to say."
---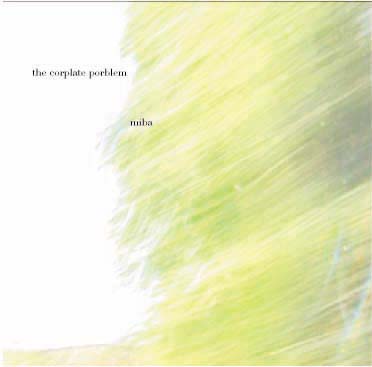 miba
the corplate porblem
Pax Recordings PR90270 - Exp/Elec
format CD

CD $12

Miba (Kristin Miltner & Mark Bartscher) uses various self-created software patches to scan audio files, creating rhythmic granular textures ranging from harmonic washes to dense noise. Their installation work is made of suspended objects that trigger fragments of found sound. On this CD they perform their latest sample-based audio compositions. A limited edition of 250 copies worldwide.
---

Miss Henry
Miss Henry Sings Angel Eyes
Evander Music EM 012- Jazz
format CD

CD $12

Classic Piano Trio performs standards, featuring Susan Chen: piano, Mark Kennedy: bass, & Tom Hassett, drums
---

Mo'Fone
Surf's Up!
Evander Music EM 021- Jazz
format CD

CD $12

Mo'Fone plays a wide range of fun and upbeat tunes that are influenced by funk, jazz, and the music of New Orleans.
"My favorite album of the year by far." (Andy Gilbert, Contra Costa Times)
"One of the hottest bands to surface in a long while." (Jazzwest.com)
"A minimal but mighty romp!" (Lee Hildebrand, East Bay Expresss)
"In a word, Mo'Fone delivers." (Jim Nelson, allaboutjazz.com)

---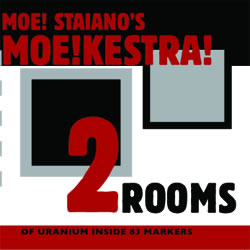 Moe! Staiano's Moe!Kestra!
Two Rooms of Uranium inside
83 Markers EDT4050 - Exp/Composition
format CD

CD $13

This album documents two live performances at the former venue, the Oakland Box Theater, in Oakland California. The first show was a fun, fast and quick performance with a small group of about 10 musicians, small by standards, compared to the more desired 25-40+ ensemble the Moe!kestra! is known for. The evening was part of a benefit show 'LET'S USE OUR CRANIUM AND LEARN ABOUT DEPLETED URANIUM' back in May of 2003. The event called attention to the health and environmental effects of depleted uranium (DU) weaponry being used by the US military in Iraq and Afghanistan. The performance featured a few notations Moe! had composed a few hours before the show that he handed to all the musicians, which as always puzzled and concerned the performers prompting them to ask if they need to play their parts perfect and note-for-note. Moe!'s answer to that is normally a coy shrug.
One of Moe! Staiano's most challenging performances to date, the second part of this CD were recorded in two separate rooms connected by a short hallway conducted simultaneously. Each room is assigned to either the left or right channel giving the listener a true live sound experience.
Overall, the end result is a directed improvisation composition that, with two separate, yet combined orchestras, produced clusters of sound interlocked with each other. If one was to walk anywhere during the live performance an experienced in fragments would have been the result. Here on this record you get to experience the unity of Moe!'s creation with all the individual groupings from each corner of the performance space performing as one.
---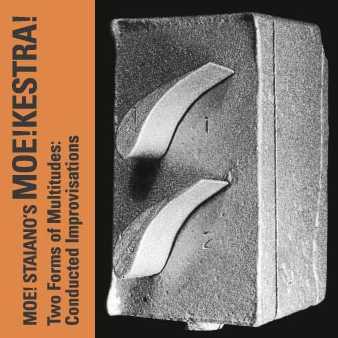 MOE!KESTRA!
Two Forms of Multitudes: Conducted Improvisations
Edgetone Records/Pax Recordings EDT 4021/ PR90261 - Exp/Composition
format CD

CD $13

A leader in monster ensemble formations and percussionist for Sleepy Time Guerrilla Museum, Moe! Staiano is a unique bay area percussionist/composer who on this recording leads a mass amount of stellar bay area musicians playing in huge clusters in a dissonant array, forming a wall of musical noise. Presenting the pure vision of the artist without compromise or preconception. This album is a tri-release of: Dephine Knormal Musik/Pax Recordings/Edgetone Records.
---

Moth Wranglers
never mind the context
Magnetic Motorworks MAG17 - Alt Rock
format CD

CD $15

The bi-coastal musical collaborative between ld beghtol (frontman/mastermind of nyc chamberpop ensemble flare, at least one-third of the three terrors, and featured vocalist on the magnetic fields' "69 love songs") and chris xefos (ex-king missile, current producer/engineer in sf). the two came together as a phenomenon in 1998, as a means by which beghtol and xefos would explore their mutual love of obscure pop histrionics and arcane instrumentation, and perhaps as a creative way to use up some frequent-flyer miles.
---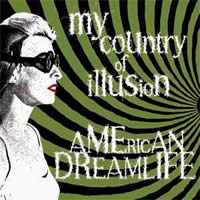 My Country of Illusion
American Dreamlife
Fire Museum Records FM03- Exp
format CD

CD $10

My Country of Illusion is a project of Barnmaster Scud and Doctor Tiki. The two have collaborated for over ten years playing experimental psychedelic "jambient" sounds at various strange and obscure locations in New Mexico and galaxies far, far away. My Country of Illusion's name derives from Disney's Mexican release of Alice in Wonderland, "Alicia en el pais de ilusion." The name reflects the illusory nature of reality experienced by the artists, and also is a commentary on the dream world in which the sounds and samples from their music emanate.
The music of My Country of Illusion is based on guitar improvisation but is deconstructed and reconstructed through an intuitive process of sampling and sequencing. Many of the cuts on American Dream Life are live recordings, while others are looped and reassembled dispatches from the harmonic underworld and Goodwill record bins. Voices and thoughts stream in and out of the music as if one were floating through an electronic bardo, drifting through the grid like phantasms. This is the afterlife of the American Dream, the world of the pop undead, mixed jambient soundbites from the collective sonic mind.
---
U.I.R.C - CATALOG N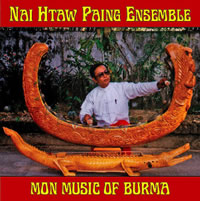 Nai Htaw Paing Ensemble
Mon Music of Burma
Fire Museum Records FM02- World
format CD

CD $10

The rarely recorded traditional music of the Mon people is vanishing and endangered, highly developed, and barely known even to Asian traditional music connoisseurs. Historically the Mon were a dominant, highly cultured, and influential people in Burma more than a thousand years ago.
There are several instruments peculiar to the Mon. Most recognizable is the Kyam (crocodile zither), a 3-string long zither with frets that is shaped like a crocodile. Another is the Batt Kine, a row of 14 or so
pitched gongs that is upturned at both ends like a crescent. Also, there is the Mon violin, a 3-string fiddle with a western-like body played upright. This is incredible music with an unique character!
Recorded in Yangon, Burma by noted musicologist Rick Heizman, the Nai Htaw Paing Ensemble are recognized as masters of traditional Mon music. There is currently an effort by concerned Mon people to revive and preserve Mon culture, language, and identity, and this recording will help further this effort.
---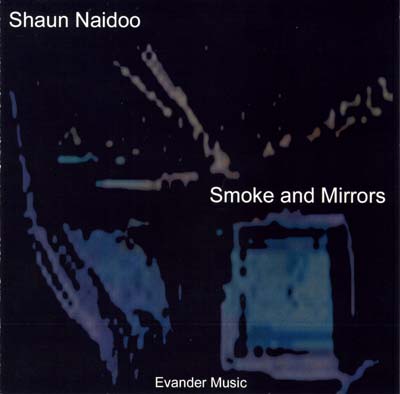 Shaun Naidoo
Smoke & Mirrors
Evander Music EM024 - Jazz
format CD

CD $12


South African-born Shaun Naidoo holds a DMA in Composition from the University of Southern California, where he previously taught at the Thornton School of Music. He currently teaches music theory at Chapman University in Orange, CA. This date has Naidoo improvising on piano, percussion and electronics alongside colleague/guitarist Sean Heim and multi-instrumentalist Scot Ray on trombone and dobro.
---
Nihil Communication
We Are Violent
Edgetone Records EDT 4042 - Exp/Elec
format CD

CD $12

"It's close to ambient washes but in a diseased way, like standing beneath power cables when the air hums. He's got a few things happening in very thin layers, making strange music, creepy rustling, often with an ominous build in the sound before the fog closes in again." - Mick Mercer
---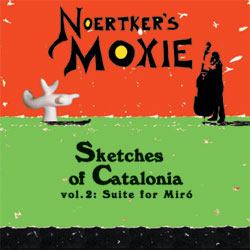 NOERTKER'S MOXIE
Sketches of Catalonia
Vol. 2: Suite for Miró EDT4051 - Jazz
format CD

CD $13

Catalonia is the birthplace of many innovative artists, among them Joan Miró, Antoni Gaudí, and Salvador Dalí. In 1995, and again in 2005, I was able to make a pilgrimage to Catalonia to see the works of these great artists in person. Out of these experiences came an extended suite of music, Sketches of Catalonia. This CD is the second part of this suite and is inspired by the life and work of Joan Miró. A CD based on Dalí is already available on the Edgetone label. A CD based on Gaudí will follow.
In the last decade, Bill Noertker has composed over 150 original pieces of music for jazz ensemble. His compositions point to the continuity between the jazz tradition and the avant-garde. His use of group improvisation and his attention to the individual voices of each of his bandmates call forth the human element so sorely missing from much of today's jazz.
---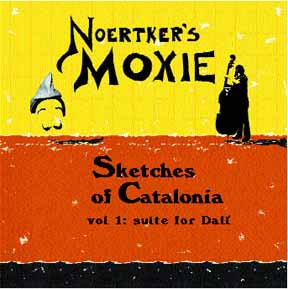 Noertker's Moxie
Sketches of Catalonia
Edgetone Records EDT 4023 - Jazz
format CD

CD $13

Inspired by the paintings of Salvador Dali and bassist Bill Noertker's journeys in Catalonia, Suite for Dali takes you to the place were jazz melts into surrealism. What Dali did for painting, this CD does for jazz. Deep swing morphs into circus melodies. Beauty fades into cacophony. At times raucous, at times pensive, always soulful, this CD takes you on an aural pilgrimage to Catalonia, birthplace of many innovative artists.
---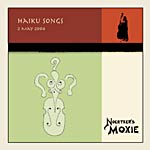 Noertker's Moxie
Haiku Songs
AEWC Records 14 - Jazz
format CDr

CDr $10

This is the second release of the Noertker's Moxie live at the SIMM Series recordings on CD-R. Recorded 2 May, 2004 by the great Karen Stackpole.
This suite was inspired by a haiku exchange between Noertker and one of his bass students. These tunes were composed using the 5-7-5 syllabic structure of the haiku as a jumping off point for musical phrases and rhythms. Solo, duo and trio compositions. Is it jazz? Is it classical? Is it chamber jazz? Who cares...?
In the last decade, Bill Noertker has composed over 150 original pieces of music for jazz ensemble. His compositions point to the continuity between the jazz tradition and the avant-garde. His use of group improvisation and his attention to the individual voices of each of his bandmates call forth the human element so sorely missing from much of today's jazz.
---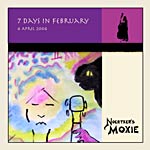 Noertker's Moxie
7 Days in February
AEWC Records 15 - Jazz
format CDr

CDr $10

This is the first release of the Noertker's Moxie live at the SIMM Series recordings on CD-R. Recorded 4 April, 2004 by the great Karen Stackpole.
During the week of bassist Bill Noertker's 43rd birthday he composed one tune every day for seven days. This suite is the result. Tunes inspired by Malachi Favors, Romare Bearden, Kristen and Betty the tax preparation goddesses, friday the thirteenth (not the movie), a fork in the road, and a color. Also includes a sing along and a tune by drummer Jason Levis.
In the last decade, Bill Noertker has composed over 150 original pieces of music for jazz ensemble. His compositions point to the continuity between the jazz tradition and the avant-garde. His use of group improvisation and his attention to the individual voices of each of his bandmates call forth the human element so sorely missing from much of today's jazz.
---

Bill Noertker, After The End of the World Cortet
13
AEWC Records AE0013 - Jazz
format CD

CD $10

What is acid jazz anyway? This is the organic version...peyote jazz. If you need a soundtrack for your journey to the forgotten fringes of your mind, look no further. Recorded at San Francisco's infamous Crib Studios by Lemon DeGeorge (of Genghis Blues fame), the AEWC 's third recording, " 13 ", is the aural equivalent of Castaneda's meetings with the Yaqui doctor. From the clarion call of "Rugae," to the quirky swing of "Hop, Skip, Jump," from the mysterious sound sculpture of "Forsythia," to the deep groove of "Chartreuse" and the mystical chant of "My Navajo Grandmother," this is what psychedelic jazz is really all about.

The After the End of the World Coretet has been a mainstay of San Francisco's underground jazz scene since 1989. All Coretet members are accomplished composers as well as versatile improvisers.
---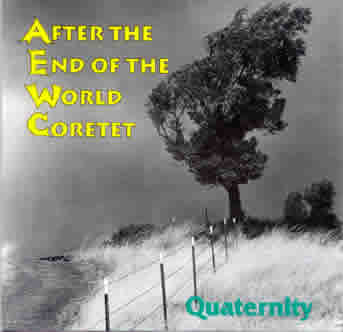 Bill Noertker, After The End of the World Cortet
Quaternity
AEWC Records AE0012 - Jazz
format CD

CD $10

Is jazz as we know it dead? "Depends on what you know," said Lester Bowie. Well...here's something you should know about. From the sparkly opening chant of "Shiny Noise," to the plaintive closing melody of "Inquisitive You," listenning to the After the End of the World Coretet 's second recording is like finding a mystical spot of natural wonder—a beach, a forest, a lake, a mountain— that no one has ever been to before. The awe-inspiring force of nature resonates within you. You want to return again and again. You are rejuvenated. Beauty, majesty, tranquility. Now you know... Quaternity.
---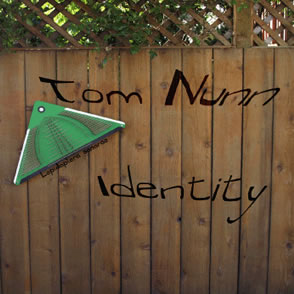 Tom Nunn
Identity
Edgetone Records EDT4047- Exp
format CD

CD $13

This solo CD by master instrument builder Tom Nunn features three of his main inventions: Hybrid Mothics, The Octatonic T-Rodimba, and The Crustacean.
Tom Nunn has designed, built and performed with original instruments as an improviser since 1976, and has been active in the Bay Area since 1978. He currently plays with the trios, Axallto and RTD3.
---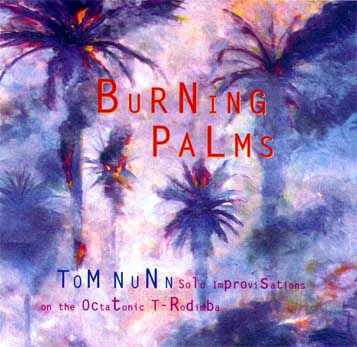 Tom Nunn
Burning Palms
Edgetone Records EDT4034 - Exp
format CD

CD $12

Tom Nunn performs solo improvisations on his original instrument, the Octatonic T-Rodimba. Each of the ten pieces on this CD discovers a different sound world as Tom plucks, scrapes, strikes, and bows his way through an imaginative and highly evolved sonic journey. - Text from Garuda Records
---
Tom Nunn's Edgewalker Experimental Instrument Consort
Peering Over
Edgetone Records EDT4044 - Exp
format CD

CD $13

"The music itself is sometimes reminiscent of Harry Partch's music, or the metal sound sculptures of Harry Bertoia, with a myriad of pitches and timbres colliding. Some pieces are mostly percussion/rhythm based, and others are more ethereal. It all sounds quite human though, and quite coherent and organized for a bunch of people playing instruments they are not completely familiar with."
- Jeph Jerman, The Improviser
---
U.I.R.C - CATALOG O
Pat O'Keefe/Jason Stanyek/Scott Walton/Glen Whitehead
Tunnel
Circumvention Music CCV3038 - Exp
format CD

CD $12

O'Keefe/Stanyek/Walton/Whitehead continue their sonic explorations with their second CD, Tunnel. Recorded in the summer of 1999, this set of improvisations highlights the ensemble's textural dexterity, and their amazingly refined sense of timbral development, both individually and collectively. Tunnel captures O/S/W/W at a crucial point in their journey, when extended temporal structures were of utmost concern. Often soft and slow, yet never static, this disc bears influences from AMM and Evan Parker's Electro-Acoustic Ensemble to Feldman and Ligeti, while always retaining O/S/W/W's unique sense of group identity.
---

Oetz/Wagner/Stuart
Permanent Flow
Accretions ALP037 - Exp
format CD

CD $12

Permanent Flow was founded in 1995 by bassist Joscha Oetz as an ensemble dedicated to improvised music. Based in Cologne, Germany at the time, Oetz conceptualized the group as a playing field for experimentation and a space to encounter musicians from various geographical and artistic origins. In 1997, saxophonist Andreas Wagner joined the project and soon became an important musical partner for Oetz. In 2002, Wagner and his fellow composer-colleague Hans W. Koch spent three months as artists in residence at the Villa Aurora in Pacific Palisades, California. Thus, Oetz decided to organize a Southern California tour with an edition of Permanent Flow featuring Wagner, Koch and Greg Stuart. The energy and inspiration of this formation continued to manifest itself in trio format without Koch when Wagner returned to the Villa in the fall of 2003. The present CD is the recording of a complete set the trio performed at a double concert also featuring Oetz's other West Coast project Perfektomat on October 14th '03 at Dizzy's, San Diego.
---

Joscha Oetz
Vieles Ist Eins
Accretions ALP026 - Exp
format CD

CD $12

Contrabassist Joscha Oetz presents a collection of improvised music in solo and duo settings culled from his creative investigation of this form over the last two and a half years. Oetz is joined on this cd by renowned bassist/improviser Barre Philips. Since their initial meeting in 1995, Oetz and Phillips have continued to build a musical relationship ( the duo which they call "Two Generations of Contrabass") whose particular sound is captured on these recordings for the first time. Also featured are three of Oetz's solo performances, a piece recorded in Germany with saxophonist Andreas Wagner, and a collaboration with percussionist Greg Stuart produced in San Diego.
---
U.I.R.C - CATALOG P

Tony Passarell 4TET
epicenter
Edgetone Records EDT 5002 - Jazz
format CDr

CD $12

This is the newest quartet from saxophonst Tony Passarell. This live recording presented at the Harbor Winery in Sacramento California is dedicated to the memory of Chuck Ehils. The quartet weaves through an exciting set of originals and a modern arrangement of the age old traditional favorite how dry I am. If you like modern jazz then epicenter will satisfy your needs.
---

The Phonographers Union
Live on Sonarchy Radio
Accretions ALP033 - Exp
format CD

CD $12

The Phonographers Union Live on Sonarchy Radio documents the live "on the air" performance by members of the Seattle Phonographers Union and guest Marcos Fernandes. The nine phonographers, or field recordists, armed with cd players, md players and a laptop, performed two sets of improvisations utilizing their various field captures. In the context of this improvisation, the only parameter set was that the artists use 'straight-up' field recordings, meaning un treated source material except for some equalozation, filtering and/or compression. Both pieces are presented here in their entirety without any edits, revealing the sensitive interactions of the improvisers as they create a continuously evolving series of 'possible spaces.' The performance was engineered and produced by Doug Haire at Jackstraw Productions in Seattle, Washington on April 12, 2003.
---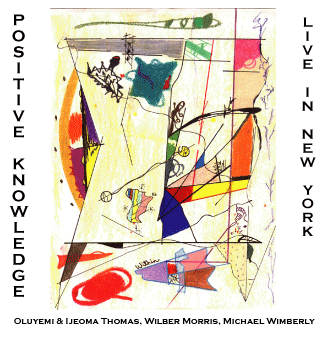 POSITIVE KNOWLEDGE
LIVE IN NEW YORK
Edgetone Records EDT 4018 - Free Jazz/Spknwrd
format CD

CD $14

Oluyemi & Ijeoma Thomas of Positive Knowledge has recorded & performed together for the past two decades, composing and sharing their joyful Creative World Music Systems with lovers of music and poetry around the world. As a great enhancement to their compositional approaches, Positive Knowledge continues to perform throughout the United States, Africa, Asia, Europe, South America, Israel, Canada, and the Caribbean Islands which has resulted in a rich multifaceted vocabulary to date.
They have recorded or performed with such artists as Cecil Taylor, Wadada Leo Smith, Roscoe Mitchell, Alan Silva, Peter Kowald, Henry Kaiser,William Parker, Miya Masaoka & Gino Robair, "Kidd" Edward Jordan.
---