U.I.R.C - CATALOG G

Gebbia, Goodheart & Powell
Zen Widow
Evander Music EM 022- Exp
format CD

CD $12


Gianni Gebbia, alto saxophone and flute; Matthew Goodheart, piano and prepared piano; Garth Powell, drums – percussion – musical saw.
"Possessed of a natural fire and remarkable sense of intuition, this collection is a singular testament to the virtues of deep listening and the practice of instant composition when in the able care of three master improvising musicians…" - Brad Winter – Cadence Magazine – Portland Creative Music Guild

---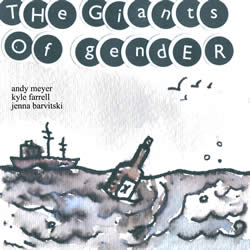 (the) giants of gender
Edgetone Records EDT4065- Av Jazz/Classical
format CD

CD $12

A violent rejection of certain traditions has become an integral element of the trio's music. They cross the border of genre and style within the context of combining composition and non-idiomatic improvisation woven throughout this debut project.
Andy Meyer - reeds; Kyle Farrell - vibraphone, percussion; Jenna Barvitski - violin, viola
---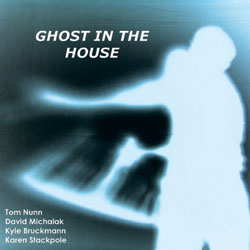 Ghost In the House
s/t
EDT4054- Exp
format CD

CD $13

The music of Ghost in the House is a soundtrack for the subconscious. It could suggest a murder mystery, a visitation in a dream or a cataclysmic storm. The scores are sketches that depict musical events to be interpreted by the band.
Conceived by filmmaker & musician David Michalak, Ghost in the House explores ethereal and elemental soundscapes where music suggests an image. Stackpole's swelling gongs resonate with Nunn's sculptural inventions creating other worldly scenarios with Michalak's eerie lap steel and Bruckmann's ominous horns adding texture and detail. "These are all the films I couldn't afford to make." D.M.
---

Michael Gold Quartet
Personal Standards
Evander Music EM 020- Jazz
format CD

CD $12

Michael Gold, saxophone; Paul Mindrup, piano, Matt Montgomery, bass; Sean Nelson, drums
Classic jazz quartet play modern standards by Alan Broadbent, Charles Lloyd, Sam Rivers, and others
---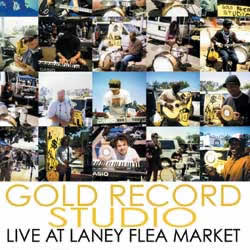 Gold Record Studio
Live at Laney Flea Market
Edgetone Records EDT4057- Various Artists
format 2-CD

CD $16

Epic, bizarre, melodic, noisy, surprising, and most of all .. beautiful!
In the spirit of bringing commerce-free, live music into situations where it is least expected, Oakland artists Jon Brumit and Lisa Mezzacappa announce the debut of GOLD RECORD STUDIO, a free public recording studio at the Laney College Swap meet. The public was invited to the flea market every Sunday from April 15 through May 20, 2007 to record a GOLD RECORD on the spot, with guest Bay Area musicians. The open-air, bare-bones studio was equipped with an antique record cutter, a stack of homemade blank plastic records, a full set-up of instruments, and a packed roster of guest musicians. In the first two weeks, Gold Record Studio recorded members of a Serbian prog-rock band, a record producer from Cameroon, a neighborhood video artist/indie rocker, DJ Ready Red from the Ghetto Boys, a family of amazing drummers, an accordionist who promised to return with his entire zydeco band, and a new age acoustic guitarist named Don Ho, among many others. Participants have ranged in age from about 8 to 65, and have included Chinese, Mexican and African immigrants, as well as local audiophiles, amateur musicians, and professional recording engineers, producers and musicians.
This project was supported by the Oakland City Council and funded by the City of Oakland's Cultural Funding Program.
---

GO-GO FIGHTMASTER
S/T
Pax Recordings PR90258 - Mod Jazz
format CD

CD $10

Jazz that embraces both the avant-garde and the straight-ahead. Drawing on all forms of world, popular and folk music to create their refreshingly unique sound, which engineer/producer Myles Boisen has dubbed "Heavy-Metal Country Jazz". Featuring Aaron Bennett - saxophone; John Finkbeiner - guitar; Adam Lane - bass; Vijay Anderson - drums.
---

Guillermo Galindo a.k.a. gal*in_dog
s_nd
Edgetone Records EDT4043 - Exp/Elec
format CD

CD $13

Guillermo Galindo's artistic work spans a wide spectrum of artistic expression from symphonic composition to the domains of musical computer interaction, electro-acoustic music, opera, film music, performance, instrument building, and multimedia installation and soundscape design.
---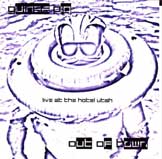 Guinea Pig Live at the Hotel Utah
Out of Town
Edgetone Records EDT 4002 - Free Jazz
format CD

CD $12

This rare recording thought to be lost, was presented live from the Hotel Utah in San Francisco. The group was specifically formed for this performance presented by the late great Dark Circle Lounge Series in the mid ninties. Now the band has reformed and is armed and dangerous with their first release, Out of Town, mixing free form noise, jazz, and grunge funk beats. "...percolating grooves: from a cool, jaunty strut to heavy, sweaty funk." -Nils Jacobsen, All About Jazz
---

Phillip Greenlief
Seared Circuit Incident
Evander Music EM 033- Exp
format CD

CD $13

This new disc by Evander Music founder Phillip Greenlief features a program of seven solo improvisations for tenor saxophone. Inspired by childhood memories and intrigued by the possibilities of the developing language of the saxophone, Seared Circuit Incident represents a step forward in the evolution of Oakland's indefatigueable saxophonist.
---

Phillip Greenlief
Stalking Andrei
Evander Music EM 023- Improv
format CD

CD $12

Phillip Greenlief, soprano, alto, & tenor saxophones, Bb clarinet
Compositions by Oliveros, Leandre, Gratkowski, Mitchell, and Greenlief. Improvisatory forms and deconstructions of works by Stravinsky, Monk, & Berio. A similarity between playing solo and Tarkovsky's Stalker. The individual explores a zone where landscape (compositions) are forever changing, bringing new challenges. The solitude provides a place to confront our innermost desires and questions for humanity. The outcomes are always a surprise
---

Phillip Greenlief & Covered Pages
Russian Notebooks, Volume 1
Evander Music EM 007- Jazz
format CD

CD $12

7 compositions for two guitars and two wind instruments by Phillip Greenlief, based on his experiences of living in Saint Petersburg in the summer of 1998. Features Greenlief, Vinny Golia, Nels Cline & GE Stinson
---

Phillip Greenlief - Trevor Dunn
Untitled
Evander Music EM 002- Jazz
format CD

CD $12


With Phillip Greenlief – Sax, Trevor Dunn - Bass
"10 improvisations by Greenlief & Dunn" - Music Hound Jazz Essential Album Guide
---

Good for Cows
S/T
Evander Music EM 009- Jazz
format CD

CD $12

Em release by bassist Devin Hoff (Nels Cline Singers) and drummer Ches Smith (Jettison Slinky - Mr Bungle) Features 8 comositions by Hoff & Smith and one Ornette Coleman composition.
---
U.I.R.C - CATALOG H

Marcos Fernandes, Hans Fjellestad, Haco, Jakob Riis
Haco Hans Jakob Marcos
Accretions ALP040 - Exp/Elec
format CD

CD $12

It may seem unlikely for these four intrepid musicians from different parts of the globe to find themselves together in a Tijuana recording studio. But Haco (Japan), Hans (California), Jakob (Denmark) and Marcos (Japan/California) are accustomed to such strange circumstances. Their invented music creates a unique atmosphere, exploring each moment from the inside out, sometimes chaotic and aggressive, often minimalist and contemplative.
---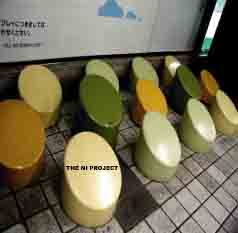 Ross Hammond - Alex Jenkins Duo
The Ni Project
Evander Music EM 030- Exp/Elec
format CDr

CDr $10

The Ni Project is a free improvising duet. Guitarist Ross Hammond and tabla player Alex Jenkins fuse free jazz, electronics and trance with North Indian Classical influences. This is their debut album on Evander Music.
---

Bill Horist
Lyric/Suite
Accretions ALP034 - Exp
format CD

CD $12

Bill Horist's newest solo guitar work, Lyric/Suite, was developed in 2002 for Canadian choreographer Davida Monk's dance performance and recorded at the Banff Centre for the Arts. Horist's dynamic musical score showcases his virtuosity and sensitivity with thirteen pieces ranging from ambient soundscapes to frenetic loop-based constructions, lush chordal sweeps to percussive prepared guitar. According to Davida Monk: Lyric takes it's cue from the work "Lyric Philosophy" by Jan Zwicky in which she champions the non-rational meanings wrought through the artistic creation process. Through the use of theme and variation, Horist weaves an abstract yet coherent sonic narrative for this multi-media performance piece.
---

Bill Horvitz Band
The Disappearance
Evander Music EM 018- Jazz
format CD

CD $12

Bill Horvitz, guitar; Steve Adams, reeds; Joe Sabella, drums
Long-running SF Bay Area trio plays compositions by Horvitz.
---
Nathan Hubbard
Born On Tuesday
Circumvention Music SA081 - Exp
format CD

CD $10

Born On Tuesday is percussionist Nathan Hubbard's debut solo album. The recording is a varied look into Hubbard's interests and excitements throughout the last few years. Throughout this time, Hubbard completed a challenging "12-step program" - 12 solo concerts in 12 months - in which he explored wide-ranging possibilities for percussion, electronics and drumset. This recording captures many of the different settings, varied responses, outcomes and changing notions of place and time inherent in the concert series. The works are primarily improvisations, with the titles derived from life experiences, suggesting that music and improvisation are intimately connected to living. Circumvention Music's "Stand Alone Series" is dedicated to releasing the finest in solo creative improvised music.
---
U.I.R.C - CATALOG I

Industrial Jazz Group
Industrial Jazz a-Go-Go
Evander Music EM 031- Jazz
format CD

CD $13

It is fair to say that the Industrial Jazz Group plays unpredictable music. Heard along the way are strong hints of rock & roll, blues, Eastern European folk music, dixieland, r&b, dance music, avant-garde ensembles and Stravinsky, and that is only in the opening number "Doo Wha?" Led by pianist Andrew Durkin and consisting of seven horns and a three-piece rhythm section, the Industrial Jazz Group can almost be thought of as an American version of Willem Breuker's Kollektief. Alternating complex written ensembles with jammed sections and overheated solos, their music is avant-garde but never dry or meandering; not with their wacky sense of humor and knowledge of earlier styles.
The band's strong musicianship and ability to instantly switch styles keeps it from merely being a musical comedy act although there are sections on Industrial Jazz A Go Go (available from www.evandermusic.com) where it will be difficult not to chuckle. Mixing together satire and reverence for the many musical idioms, the Industrial Jazz Group is both a crack up and a memorable musical experience. This is a band that certainly deserves to be much better known.
- Scott Yanow, Los Angeles Jazz Scene Magazine
---
U.I.R.C - CATALOG J
Jack and Jill
Fancy Birdhouse
Magnetic Motorworks, MAG08 - Alt Rock
format CD

CD $11

Risen from the ashes of Hieronymus Firebrain, Jack and Jill rocket forth divining greater meaning for the sordid world of pop music. A powerful trio based in the San Francisco Bay Area, J&J have so far recorded two CDs, "Chill and Shrill" (1995) and "Fancy Birdhouse" (1997). They mean everything that they say.
---

Jack and Jill
Chill and Shrill
Magnetic Motorworks, MAG07 - Alt Rock
format CD

CD $11

Dr. Geronimo Firebrain as Jack, Jane Err as Jill , Russ Blackmar as the pail of water
---

Jettison Slinky - Sour Note Seven
Because of Wayne
Evander Music EM 013- Jazz
format 3 CD Set

CD $18

This 3 CD package actually has a few titles...CD #1 is by the Sour Note Seven, and is entitled "Because of Wayne" - a live recording by Jeff Cressman at Bruno's. CDs 2 & 3 are by Jettison Slinky and are entitled "The Only Song We Know" - and are studio recordings. All CDs are filled with Connah compositions and represent a large range of music, from electric, post prog rock/jazz to electronics, post Sun-Ra horn lines and lots of improv. The releases feature the usual Sour Note Seven lineup and the usual supects of Jettison Slinky, and are augmented by Scott Amendola, Dan Seamans, Devin Hoff, Steve Adams, Ches Smith, and Paul Hanson.
---

Jettison Slinky
Dank Side of the Morn
Evander Music EM 008- Jazz
format CD

CD $12

Recording of 9 compositions by Graham Connah for his new, more electric, 10 piece band, featuring Connah, Trevor Dunn, Smith Dobson Jr, Marty Wehner, Nancy Clarke, Jewlia Eisenberg, Noel Jewkes, Alex Candelaria, Ben Goldberg, Lee Alexander, & Rob Sudduth
---